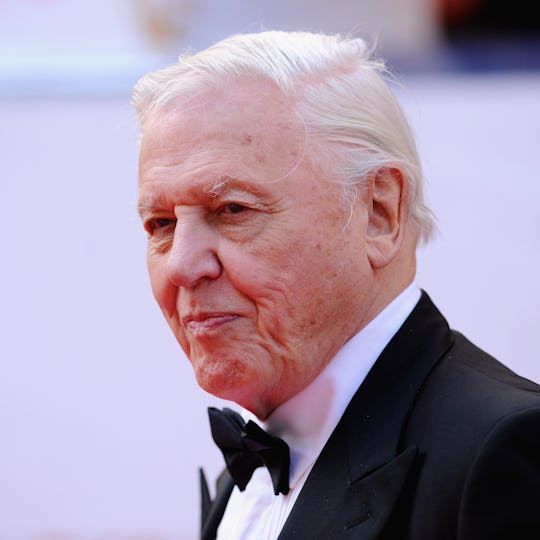 David Attenborough Narrated Adele's New Music Video, In Case You Wanted All Your Favorite British Things To Collide Today — VIDEO
Clearly, life has been on the up and up since all of the Halloween candy is now safely in our stomachs, and Adele finally released a new single. The Brits get so many things right, like Sherlock, Dairy Milk, Top Shop and Banoffee Pie (seriously, have you tried that stuff?), and, as they often do, they've managed to score a homerun in the humor department today. Why? Because who else would think of getting Sir David Attenborough to narrate the opening sequence of Adele's new music video? (I mean, specifically it was BBC 1's Gregg James, but whatever. He's British. It counts.)
This is pretty much the most brilliant reinvention of music videos ever, in my opinion. I mean, I love a good video, when it isn't just a highlight reel of the artist lipsyncing their song in front of flashing lights and a bunch of dancers. Every song is a story of some sort, right? So I love it when labels get creative with their artists' music videos.
But this music video artistry gets taken to a whole new level when you bring someone else in, to narrate the opening sequence of a video. I am in love with the concept, and now I'm starting to brainstorm other narrator/video combination. It's like food and fine wine: the right pairing brings out something wonderful in each component.
Here's the video with Attenborough narrating Adele's "Hello"
So here are my thoughts: This superstar-studded narration of pop music videos needs to be done all the time. We need a YouTube channel devoted entirely to this burgeoning new artform, because it is awesome and hilarious and perfect. 
Ahem. I have a few suggestions:
What if we had Samuel L. Jackson narrating the intro of Lady Gaga and Beyoncé's video for "Telephone"?
Or Andy Serkis narrating Beyoncé's creepy video of "Haunted"? (We could easily keep going with the Bey vids, but you get the idea.)
How about Kate Winslet voicing Duran Duran's "Girl Panic" video?!
There's a whole genre that's waiting to be explored here, people, all because some brilliant radio host thought outside the box and brought two mediums together to create something new. The Internet owes you a great deal, Mr. James.
Images: Stuart C. Wilson/Getty Images; LadyGagaVEVO/YouTube; BeyonceVEVO/YouTube; DuranDuranVEVO/YouTube