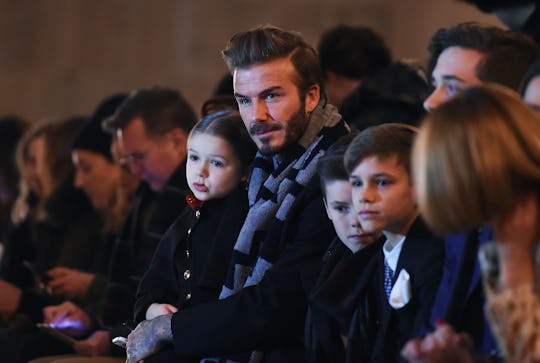 JEWEL SAMAD/AFP/Getty Images
David Beckham Sews Doll Clothes For His Daughter & The Internet Loses Its Mind
Retired soccer player and gorgeous dad of four David Beckham was caught sewing doll clothes for his daughter Harper on Instagram the other day. Obviously, the Internet totally lost its mind, and made everyone who isn't dead inside say, "awwww." The picture, taken by Beckham's wife Victoria "Posh Spice" Beckham, no less, was the stuff of any domestic goddess' dreams. (Please ladies, prepare your ovaries for an overload of hormonal influx — even those of us who thought we were done birthing babies might have a look at this pic and think, "Maybe one more....")
I'll set the scene for you, shall I? In the now-famous Instagram shot, David Beckham sits on the floor in gray sweats with a doll's dress pattern perched on his knee. Looking very serious, he stitches the tiny dress for his little girl Harper (the youngest of the Beckham's four children and their only daughter), using felt pink and blue fabric. Cute, right?
Of course, as sweet as it is, it's not necessarily the retired athlete's first foray into the world of fashion: Becks was helping run his wife's fashion line until he (very quietly) resigned this week, so he has a bit of a background there.
Serious stuff aside, this is one totally cute capture, and the Internet isn't the only party chiming in on the adorableness. Ex-Spice Girl/fashion icon Victoria Beckham captioned the drool-worthy Instagram pic with the words, "Harper has daddy stitching her dollies dresses! We love you David Beckham," adding the hashtags "#lovingdaddy", "#proudmummy", and "#familyfun."
The Beckham family has become well known for living the fairy tale. They own homes all over the world, have a marriage that seems terribly successful (though now I'm worried I might have just jinxed it) and four great kids— kids who all look to be kind and genuinely love each other. For reals.
Speaking of their great kids... take a look at little Miss Harper Seven Beckham with her dad and brothers:
Little Harper Beckham seems to have stolen everyone's heart... especially her daddy's.
The feeling is clearly mutual. Here she is brushing her teeth, wearing her soccer jersey with her famous father's number and also the most perfect little braid I think I've ever seen:
So what does the Internet have to say about the cuteness overload of Beckham sewing doll dresses for his wee girl?
So, you know. No pressure to other regular dads who aren't busy sitting on the floor sewing teeny doll dresses for their little girls, right?