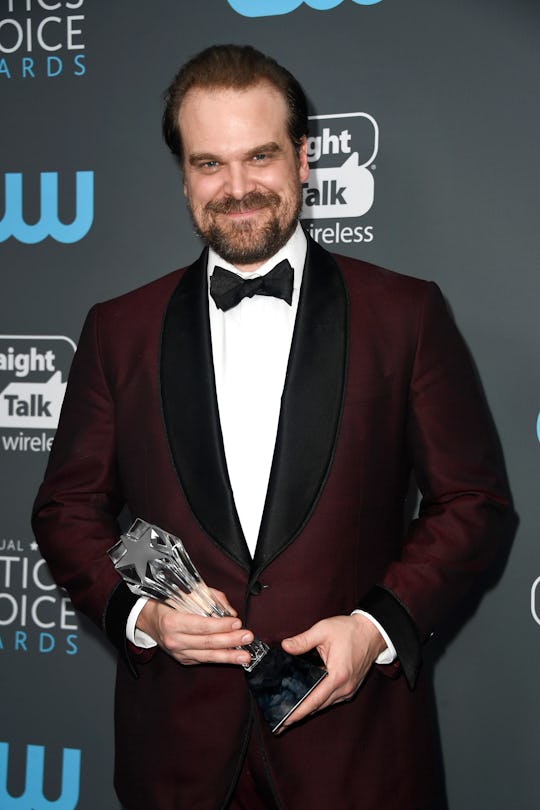 Frazer Harrison/Getty Images Entertainment/Getty Images
David Harbour Is Making Promises To People On Twitter, & Hopper Fans Are Losing It
Some celebrities are masters at really working Twitter to their benefit. Sharing just enough information to keep their followers invested, but not so much as to bore them. It's a delicate dance that requires no small amount of social media savvy. Then there are celebrities like David Harbour, who Stranger Things fans recognize as the strangely hypnotic Chief Hopper. Instead of boosting his already stellar career with a series of suave tweets, Harbour is making promises to fans on Twitter... and keeping them. Honestly, it's just about the most delightful thing you'll ever see.
Have you ever considered what you would be willing to do if you could get David Harbour to, say, come eat Thanksgiving supper with your family? Well, if you're willing to do a little work in the retweet department, plus deal with a few extra hilarious requests from the man himself, you might be able to make it happen. Harbour has decided to capitalize on his newfound fame playing Chief Hopper on the first two seasons of Netflix' massively popular Stranger Things to have a little fun, Twitter-style. Rather than ignoring fan requests, something I'm sure most celebrities have to endure on the regular, Harbour decided to embrace some of them.
Like a recent request from a fan for Harbour to act as the officiant at her wedding.
Twitter user @ErickaElizabth tweeted out the question; What would it take to get DavidKHarbour to be the Officiant at my wedding in September?
And Harbour responded that he would actually be willing to officiate at her wedding, even going so far as to say he would be ordained to perform the ceremony, as long as a few incidental requirements were fulfilled.
The happy day would have to work with the filming schedule for the third season of Stranger Things (I already knew there would be a third season, but just seeing it confirmed by Hopper himself did this girl's heart good)
She would need to get 125,000 retweets, and considering she already has almost 100,000 I think this won't be a problem
Harbour wants to read an "esteemed love letter of his choosing"
He wants to eat the first piece of wedding cake. So badly, apparently, that he used the hashtag #allthecakes
When one person noted that it was, perhaps, a bit much to ask the couple to give up their first piece of wedding cake, Harbour even sweetly changed his request.
Fans are justifiably loving this Twitter thread, probably because they're excited to find out Harbour is a sweetheart in real life and their crush is therefore totally justified. Or that could just be me.
Some fans had special requests, others just wanted him to know he was winning Twitter and that he was loved by basically everyone on the planet.
One fan had a warning for Harbour. Or a promise, depending on how one looks at things: "Someone's gonna eventually ask you to marry them if they get enough retweets, ya know."
This isn't the first time Harbour has gotten involved in a Twitter promise. Twitter user Damaris, a senior at a Newman, California, high school, asked Harbour last October what it would take to get him in her senior picture.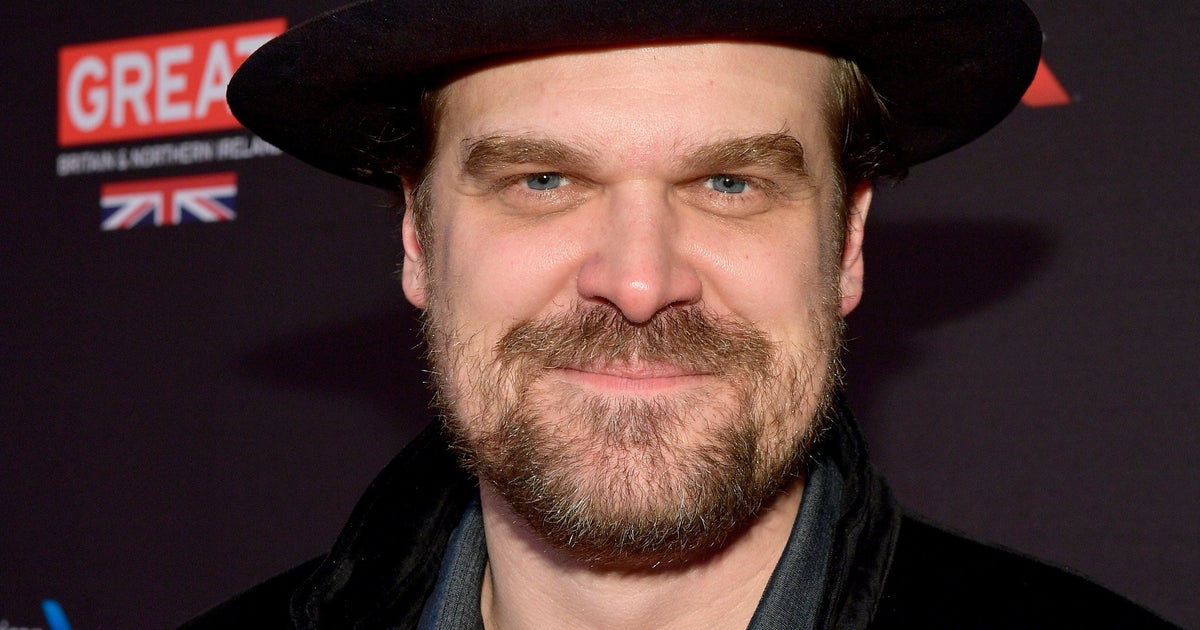 He responded with a simple request.
And three months later, he fulfilled his promise. So we know for sure, based on past experience, that if Harbour says he is going to officiate your wedding... he's going to do it.
So now, I guess the only thing left to do is to decide what sort of shenanigans you might like David Harbour to pull off for you, and what terms you might be willing to negotiate. Nothing creepy, guys, let's not scare him off.
Because he's being such a sweetheart; nobody wants to be the person to ruin the fun, right?
Check out Romper's new video series, Romper's Doula Diaries:
Watch full episodes of Romper's Doula Diaries on Facebook Watch.