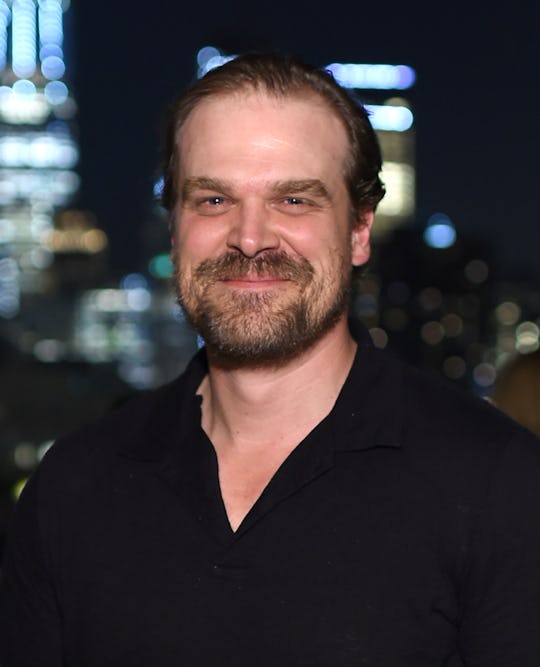 Dimitrios Kambouris/Getty Images Entertainment/Getty Images
David Harbour's Response To A Young Fan's Tweet Will Have You Falling In Love
Every girl has a fantasy guy out there, and for me it's David Harbour. Well, not David Harbour in real life, I suppose. More specifically his endearing, messy, well-intentioned character on Stranger Things. Real life David Harbour is a stranger to me, but Chief Hopper? Him, I already know I love. Or this is what I told myself, at any rate. Once I saw Harbour's response to a young fan's tweet, however, I realized I was in trouble. I'm probably in love with his real-life persona too.
And I'm not the only one who is going a little ga-ga over Harbour; a high school senior in California named Damaris is a serious fan too. It seems she was hoping against hope for a photo with Harbour, and not just any old photo; she wanted to have him featured in her senior photo. So back in November, the savvy high school senior decided to enlist a little help on social media to see if she could make it happen. Damaris tweeted out:
@DavidHarbour how many retweets for you to take your senior photos with me?
Which could have gone nowhere, of course. This tweet could have just floated around in the ether of the internet.
Fortunately for Damaris, David Harbour was paying attention.
The actor replied to the tweet, but he attached some *interesting* conditions. He was willing to take her senior photos with her if she managed to get 25,000 retweets, but he wanted to be wearing her school sweatshirt and holding a trombone.
If this isn't the most Hopper-ish response, I really don't know what is. And it paid off; Damaris did manage to get more than 25,000 retweets in less than one day (with Harbour's retweet also getting more than the requisite 25,000 retweets) because who out there wouldn't want to see delicious David Harbour in a senior school photo, holding a trombone and wearing a school sweatshirt? Somebody with a cold, dead heart.
Three months after the initial tweet, Harbour made good on his promise. He shared the pictures on Instagram with the caption:
Voted most likely to hijack someone's high school senior photos 24 years later.
Not only did Harbour pose for the senior pictures, he went all out. Shaking some pom-poms, playing the trombone, giving the lamest thumbs-up. It was magical. And how did Harbour feel about this moment? He told Insider:
Seriously, someone should be in charge of my life. I'm such an idiot.
Bite your tongue, good sir.
Harbour went on to admit he frequently gets asked things like this, "How many retweets to come to Thanksgiving," etc, but this request felt right:
The idea of me in a small size sweatshirt of some high school, holding a trombone with this poor girl trying to take her high school photos seriously, I just thought that was so funny.
Of course it's funny, but even more than that it's further proof that Harbour is just a genuinely nice guy who gets a kick out of his fans. While the actor, who is currently shooting a remake of HellBoy in Bulgaria, admits he doesn't spend much time on Twitter, he told Insider that enjoys the response he gets from fans when he checks in:
So when the show drops, I find that the social media love for the show is so profound that I really do enjoy hearing what people have to say about it and engaging with them.
Speaking of engaged... I mean, no pressure here Harbour but how many retweets does a girl need to get engaged to a certain dreamy actor with killer dance moves?
Asking for a friend.
Check out Romper's new video series, Romper's Doula Diaries:
Watch full episodes of Romper's Doula Diaries on Facebook Watch.