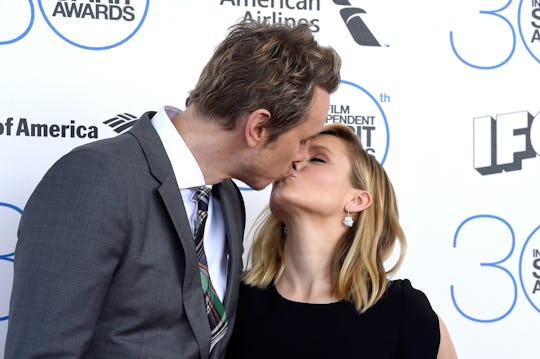 Frazer Harrison/Getty Images Entertainment/Getty Images
Dax Shepard Talked About How Kristen Bell Maks More Money Than Him, & It's Super Refreshing
Dax Shepard and Kristen Bell remain one of the most engaging couples in Hollywood. The parents of two little girls haven't just been open about their struggles with parenting, they have both been known to poke a little fun at their marriage as well. Shepard in particular has been endearingly self-effacing about his role as Kristen Bell's husband, all with his usual tongue in cheek delivery. But when Shepard opened up about Bell making more money than him, it was actually an important moment. Even if Shepard seemed to be goofing off, the whole "who makes more money" issue is a very real struggle in many people's marriages.
Of course, it doesn't help that for many generations the man in the marriage made more than the women. On account of the women weren't working initially, and when women did start to work they were simply paid less. While women still are trying to overcome the gender wage gap, it's slowly getting better and this means that there are plenty of couples out there with the woman bringing home a higher income than her husband. This has left some men feeling as though their masculinity is threatened, according to Salon, but not so with Dax Shepard... he is happy enough to reap the rewards of his wife's success.
Shepard told late night talk show host Conan O'Brien during an interview on Conan that Bell asked him if he wanted a prenup before their October 2013 wedding:
When we first started dating, I had more money than her and I owned the house that I lived in. And she said to me at one point, 'Would you like a prenup?' I said, 'No, I don't want a prenup,' but I really wanted a prenup, really bad.
Eventually, however, the couple's income streams shifted. Bell, who was perhaps best known at the outset of her career for playing plucky young detective Veronica Mars on television from 2004-2007, began to get more movie roles. She was part of the ensemble cast for Bad Moms, voiced Anna in the Disney hit animated movie Frozen, and now stars in the Netflix series A Good Place. Apparently these days, the mom of two girls (4-year-old Lincoln and 2-year-old Delta) is making more money than her husband. And he's really glad he didn't go for that prenup, as he told O'Brien:
The joke is now on her. because she's become much more successful than me and has much more money than me.
Sure, Shepard is obviously joking around, but I'm happy he's talking so openly about his wife's success and celebrating it rather than going all cave man and feeling emasculated by it. As strange as it might seem in 2018, many men might still feel as though their masculinity or strength is threatened if their wife earns more money than them, according to a study in the Harvard Business Review. So when a confident, successful celebrity happily points out that his wife earns more money than he does, I believe that can only help erase the outdated stigma of the traditional breadwinner, as it were.
Shepard isn't the only celebrity joyfully celebrating his partner's success; Oprah Winfrey's longtime beau Stedman Graham has often been quoted singing the praises of his significantly wealthier girlfriend, even going so far as to say she would run for president. And New England Patriots' Tom Brady doesn't shy away from showering praise on his model wife Gisele Bundchen; when she retired from the runway, Brady shared a sweet post on Facebook congratulating her that read in part:
You inspire me every day to be a better person. I am so proud of you and everything you have accomplished on the runway. I have never met someone with more of a will to succeed and determination to overcome any obstacle in the way. You never cease to amaze me.
Seeing men step up and support their wife's success separately from their own potential ego? There's a trend I can get behind.