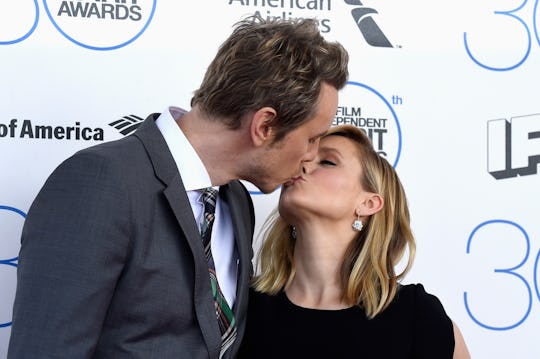 Frazer Harrison/Getty Images Entertainment/Getty Images
Dax Shepard Shut Down Weird Sex Rumors About Him & Kristen Bell In The Best Way
Kristen Bell and Dax Shepard are always refreshingly honest with fans about the highs and lows of their marriage. Not to mention, they're usually pretty hilarious while doing it. So when a tabloid recently reached out to the couple to comment on gossip about their sex life, Dax Shepard and Kristen Bell shut the rumors down in the best possible way.
On Wednesday, someone sent Shepard an email asking for comment on some "kinky" rumors. "Star is working on a story in which a source says that Kristen Bell and Dax Shepard have discussed having a threesome and toyed with other kinky things, like S&M and role playing. Sources say that Kristen believes this is insurance against marital meltdown," the email read, according to a screenshot Shepard shared on Instagram. "If you wish to comment on this story, please reply by 12:00 p.m. EST Thursday 10/11."
Clearly, such a baseless rumor does not deserve to be dignified with a tactful response. So instead, Shepard Instagrammed a screenshot of the email. "The only offensive thing about this bulls—t story is that @kristenanniebell isn't doing all this kinkiness out of horniness, but rather a desperate attempt to save her marriage," Shepard captioned the post on Instagram. "I think we all know Bell is a lot more gangster than that. I'll now give you until 4PM to comment, Star."
Star magazine did not immediately respond to Romper's request for comment — nor has the magazine responded to Shepard's badass Instagram post.
By the way, the email's subject line read "Kristen Bell comment request" — and boy oh boy did Bell give a comment. She regrammed Shepard's post and added a caption of her own: "I'd love to comment, but its hard to talk with this ball gag in!"
My goodness, I just love these two.
Bell and Shepard have publicly opened up about their marriage many times, proving to fans that celebrity relationships are much more than award shows and #couplegoals posts on Instagram. For example, they have gotten honest about their experience with couples therapy on multiple occasions. In November 2015, Bell told ET Online that couples therapy helped the pair work out all of their issues. "Our relationship wasn't perfect," Bell told the outlet. "We had a couple years of fighting and of growing pains and hating each other, then loving each other and going to couples therapy and we worked it out ... We earned each other."
Shepard echoed that statement on Good Morning America in March 2017. "We went to therapy early on to learn what our pattern of arguing was and where we needed to stop that," Shepard said on the show, according to Yahoo. "It's great too because you go to the therapist and he listens to you talk for about 30 seconds and then he's like, 'I got it.'"
Not to mention, they continually give fans glimpses into their daily ritual as a couple after their kids go to bed. In July, Shepard told Us Weekly that once their daughters are asleep, "there are two hours of mommy and daddy binge-watching TV time." Even though he and Bell's relationship seems pretty strong, he also joked, "We get that couple hours at night where we fantasize about other people on TV."
Hey, if the whole acting thing doesn't work out for Kristen Bell and Dax Shepard, maybe they'll have a backup career in professionally trolling tabloids.