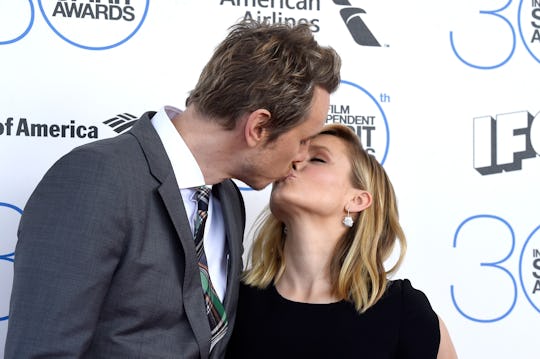 Frazer Harrison/Getty Images Entertainment/Getty Images
Dax Shepard Defends Kristen Bell's Decision To Smoke Weed With This Perfect Response
In case you didn't catch the breaking news Wednesday, Kristen Bell caused quite the stir when it came to light that she smokes weed on a weekly basis. Mom-shamers came out in full force to attack Bell's parenting, while others criticized her decision to smoke around her sober husband, Dax Shepard. And if these critiques make you want to pull your hair out (it's all very frustrating, right?) you'll probably appreciate Dax Shepard's response to Kristen Bell revealing she smokes weed.
One of the things I absolutely love about Bell is her honesty. From the actress' remarks about her hopes for her daughters' future sex lives (she wants them to have "good, healthy, positive, happy, wild sex" one day) according to People), to her admission that monogamy is "tough," she never shies away from saying exactly what's on her mind. And Bell kept up this trend on Monday during an appearance on Marc Maron's podcast, WTF with Marc Maron, when she discussed how weed helps her unwind.
"I like my Vape pen quite a bit. Weed rules," Bell admitted, according to NYLON. "Weed is my drug of choice, for sure."
Although Bell clarified that she doesn't light up around her kids, she does smoke when she and Shepard settle in for a rousing episode of 60 Minutes. She explained, according to Us Weekly:
I can't do it around my kids, which is a phenomenal amount of hours each week. Once a week, if I'm just exhausted and we're about to sit down and watch 60 Minutes, why not?
Of course, it didn't take long for the haters to come out of the woodwork to shame Bell for smoking, especially where it concerns Shepard and his 14 years of sobriety.
"With her husband a recovering addict this feels really really slimy and selfish to me," one person wrote.
A commenter added:
I've just lost so much respect for her. Why would she ever do that in front of him or talk about having drug parties, or advocate using drugs which cause devastation to many lives? He has maintained sobriety and deserves support and not temptation. Why would E! be happy for this?
As for Shepard's take on this situation? He's not here for the shade.
"That would be like a diabetic expecting their partner to never eat dessert," Shepard tweeted on Wednesday. "Get real!"
Shepard's analogy brings up a good point, which is that his sobriety doesn't depend on Bell's choices. Not to mention, it's not fair to put that level of responsibility on a person, and that take doesn't give enough credit to all of the people out there who work hard each day to maintain their sobriety.
It's also important to point out that you can support someone's sobriety while also indulging in weed or alcohol, for instance. In fact, Bell has been exceptionally supportive of Shepard's sobriety throughout the years, most recently writing a *long* Instagram post celebrating his 14th year of staying clean. She wrote on Sept. 1 on Instagram:
To the man mocked me in our wedding photos because I cried too many tears of joy, Who wore a baby Bjorn for 2 straight years to show his girls how to be as adventurous as possible, Who held our dear little shakey mann pup for 8 hrs straight on the day we had to put him down, I know how much you loved using. I know how much it got in your way. And I know, because I saw, how hard you worked to live without it. I will forever be in awe of your dedication, and the level of fierce moral inventory you perform on yourself, like an emotional surgery, every single night. You never fail to make amends, or say sorry when its needed. You are always available to guide me, and all of our friends, with open ears and tough love when its needed most.
Aww. The image of Shepard wearing a baby Bjorn (second photo) is *too* cute.
Bell went on to add, "You set an excellent example of being human."
Many people agreed with Shepard's sentiment about the issue, with one fan writing on Twitter:
My husband & I are BOTH sober because WE CHOOSE TO BE. But we do NOT expect any family or friends to change in any way. As long as it's legal, so what? Dad have that beer, mom have that wine! ITS ALL GOOD! I have SEVERAL friends who choose medical marijuana..
Another person chimed in: "I've been sober for ten years. My girl just got her medical marijuana card. Different strokes for different folks."
Someone else argued:
How about we celebrate what an amazing job you've done with sobriety to have such iron will, what a great job she has done supporting you to get to this point she can do that, and what all round good egg you are for letting her make her own choices instead?
As these supporters already pointed out, it's important to respect Shepard and Bell's relationship no matter what choices they might make. Sobriety is a very personal thing, and there's no right way for a friendship or relationship to approach it. At the end of the day, each person has to do what's best for their well-being, even if it means smoking weed when their partner doesn't. To each their own.