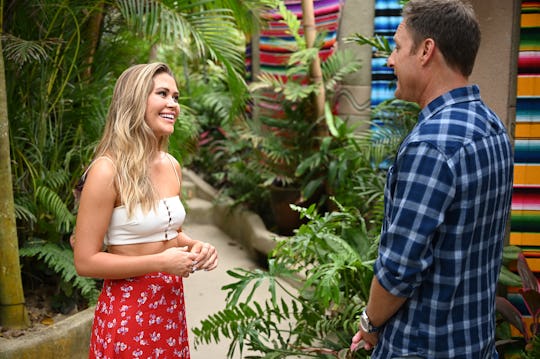 John Fleenor/ABC
Dean Dumped Caelynn On Her Birthday & 'BiP' Fans Were Horrified
Following a tense rose ceremony in which the guys (plus Demi) held the power this week, Dean broke up with Caelynn on her birthday on Bachelor in Paradise and self-eliminated after giving her his rose. It left Caelynn exactly as crushed as you'd imagine, but from the looks of some newly released production stills, she rebounds very quickly with one Connor Saeli.
Dean kicked off the day by throwing Caelynn a birthday bash, complete with cake and a cast happy birthday singalong, which, of course, only left her more stunned that he chose that day to break up with her. To be fair, she had been bracing herself for both a breakup and Dean being totally unready for a relationship... just not on her birthday. Caelynn was relieved to get Dean's rose, but immediately after the rose ceremony, he pulled her aside for a serious talk in which he finally broke things off, citing their incompatible lifestyles.
Dean admitted that they were having a great relationship, but said he wasn't expecting to find love on the beach. He was basically just there for fun. Dean could feel Caelynn falling for him, however, and figured it would be kinder to cut things off at the pass, rather than continue having fun at her expense.
Caelynn was, in a word, shattered. But Dean's worst offense was honestly the speech he'd given her the episode before. Said Dean:
All I know is I'm enjoying spending my time with you, and I don't want to spend it with any other girl while I'm here. But I suck at dating. It's challenging for me to see myself getting to a point where I'm like, 'All right, I'm ready to settle down now, but now I'm going to take off in this van for nine months so I can be as free as possible.
If you recall, Dean is basically homeless since giving up his apartment to spend the summer road tripping in a van. He intended to return to that adventure after Paradise, and assured Caelynn that she'd be "miserable" as his girlfriend. He knew she'd want to settle down and have a more or less "normal" relationship — you know, with running water and stuff. Dean believed that Caelynn wouldn't want to join him in the van — nor did he seem to want it — and he claimed he wouldn't be ready for a relationship right after the show.
Caelynn wondered in a confessional interview why Dean bothered coming to Paradise in the first place if he wasn't open to a relationship, calling his excuses a cop-out. To add insult to injury, Caelynn then had to attend Chris and Krystal's wedding the day after getting dumped. Lucky for her, Connor just so happened to arrive in Paradise as a wedding guest, and she went from grieving to making out in roughly two minutes. Kristina also seems to be showing some interest, however, so it would appear that her and Caelynn's rivalry isn't over just yet.
Bachelor in Paradise airs Monday and Tuesday nights at 8 p.m. on ABC.