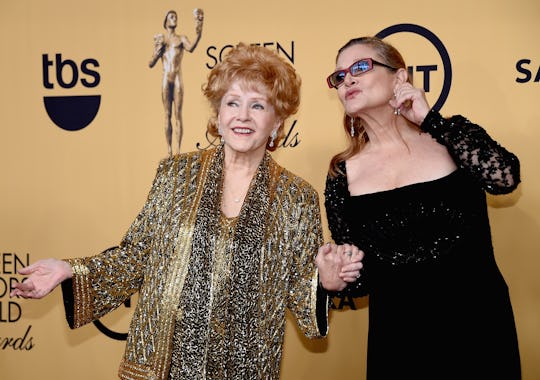 Ethan Miller/Getty Images
Debbie Reynolds Hospitalized For Possible Stroke
Just a day after her daughter's death, Carrie Fisher's mother, Debbie Reynolds, was hospitalized for a possible stroke, according to a report by TMZ. The actress was reportedly discussing Fisher's funeral details at her son's home in Beverly Hills when they had to call 911 for medical assistance mid-afternoon. Reynolds, 84 years old, was taken to a local hospital in an ambulance.
Update: On Wednesday night, TMZ reported that Reynolds' son Todd had confirmed the actress' death, following emergency hospitalization for stroke complications. "She's with Carrie," he said, in a statement.
Reynolds issued a statement regarding her daughter's death on Facebook Tuesday afternoon. She wrote, "Thank you to everyone who has embraced the gifts and talents of my beloved and amazing daughter. I am grateful for your thoughts and prayers that are now guiding her to her next stop." She signed the Facebook post, "Love, Carrie's Mother."
Reynolds and Fisher had a rocky relationship, which was well-documented in Postcards From The Edge, Carrie Fisher's memoir that was turned into a stage play and HBO special. In 2011, Reynolds and Fisher appeared on Oprah Winfrey's show together in 2011 for a joint interview.
Reynolds told Oprah about how it felt to watch Fisher struggle. "She was doing a film. She had collapsed on the set and they had to take her to Cedars Sinai [hospital]. First of all, it was a terrifying night," she said. Reynolds added, "It was just pouring rain, so you can picture you're in the car with the rain smashing against the windshield and you're crying like mad and you don't know if your daughter is going to be alive when you get there."
She added, "There have been a few times when I thought I was going to lose Carrie. I've had to walk through a lot of my tears. but she's worth it."
During the same interview with Oprah, Fisher added that it was tough growing up in Hollywood. "The family is organized [around] the parents, [whereas] normally the family is organized around raising the child," she said.
Although their relationship might have been strained in the early years, the two women were reportedly close. In an interview with CNN in 2010, Reynolds admitted that whenever she called her daughter she would say, "Hello, dear, this is your mother, Debbie Reynolds," which is something many adult children can likely relate to. Parents are parents, Hollywood or not.
Although they were both Hollywood royalty, the two women obviously had a strong creative bond. So much so that there was, reportedly, a Wishful Drinking sequel in the works, according to The Los Angeles Times.
Reynolds was best known for her role in Singin' in the Rain and was nominated for an Academy Award for The Unsinkable Molly Brown. She was born in 1932.