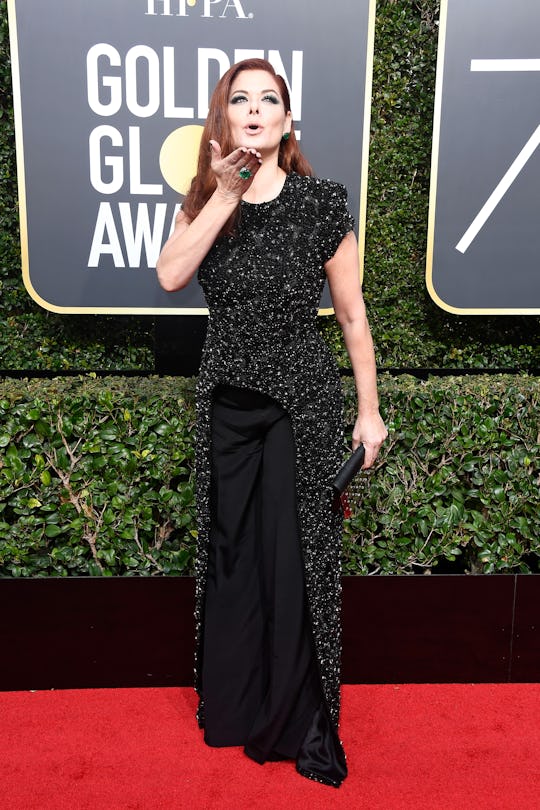 Frazer Harrison/Getty Images Entertainment/Getty Images
Debra Messing Called Out E! For Underpaying Catt Sadler & Twitter Is Losing It
If you had any doubt at all that Hollywood actresses weren't going to bring it at the 2018 Golden Globes this year, let Debra Messing's Catt Sadler comments on the red carpet be your proof that time is definitely up for gender inequality in Hollywood. While talking to E! News host Giuliana Rancic about why she was wearing all black Sunday night, the Will & Grace star slipped in some shade concerning Sadler's departure from the celebrity news network.
For those of you who are unsure what this was in reference to, here's some background information: Sadler was the host of E! News, E! News Weekend, and Daily Pop, a show she started this year. She claims that she found out that her male co-host, Jason Kennedy was making significantly more money than she was, and that she attempted to negotiate with the network, according to her blog, The Cattwalk. She wrote about her decision to leave late last year, stating:
...an executive from E brought something alarming to my attention — namely, that there was a massive disparity in pay between my similarly situated male co-host and myself. More recently, when E reached out to renew and extend my deal, I learned that he wasn't just making a little more than I was. In fact, he was making close to double my salary for the past several years.
In order to show solidarity on the red carpet, stars such as Amy Schumer and Eva Longoria called on other actresses to speak up not just about Time's Up and #WhyIWearBlack, but also Sadler's departure. Messing was the first to go for it, in a pretty badass move, since calling out a network on that very same network is not an easy thing to do.
When Rancic asked about why Messing was wearing black, like most every other stars on Sunday, the actress decided to make it not just about raising awareness about sexual assault and harassment, but also gender inequality overall. She said to a visibly *shook* Rancic, "I was so shocked to hear that E! doesn't believe in paying their female co-hosts the same as their male co-hosts. I miss Catt Sadler."
Messing added, "So we stand with her. And that's something that can happen tomorrow. We want people to start having this conversation about how women are just as valuable as men." Rancic responded, "Well, absolutely."
E! issued a statement in the Los Angeles Times earlier in the day in response to the call for actresses to bring Sadler up on the red carpet. It said:
E! compensates employees fairly and appropriately based on their roles, regardless of gender. We appreciate Catt Sadler's many contributions at E! News and wish her all the best following her decision to leave the network.
But people on Twitter were really loving Messing's approach and really respected her for calling the network out on their own red carpet event.
The Time's Up initiative has started a legal defense fund for lower income women to fight workplace abuses, hold studios and talent agencies accountable for sexual assault claims, and even write legislation to discourage the use of non-disclosure agreements, which are often blamed for perpetuating a culture of silence of around sexual harassment and abuse.
But Messing's comments, along with the fact that many A-listers walked the red carpet with professional social justice activists to encourage conversation, is a sign that maybe (just maybe!) things might be changing, especially during awards season.
Rashida Jones explained earlier this week to InStyle:
This is not a silent protest. I don't think why we wear black is divisive as much as it is being discussed and debated without all the facts. Many women on the red carpet will discuss what's important to them about their choice to protest and wear black.
Messing just came through in a big way for women. Hopefully others will too, and the conversation keeps happening to help evoke some real change.
Check out Romper's new video series, Romper's Doula Diaries:
Watch full episodes of Romper's Doula Diaries on Facebook Watch.