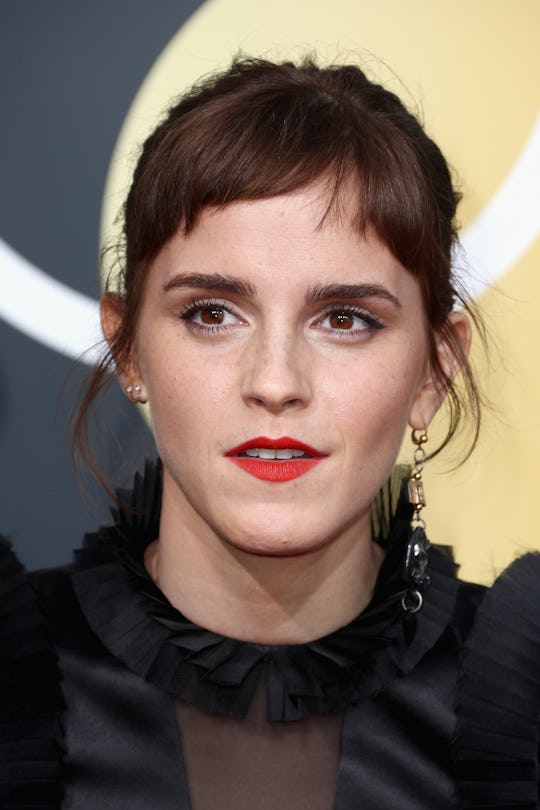 Frederick M. Brown/Getty Images Entertainment/Getty Images
This Is The Activist Emma Watson Brought To The 2018 Golden Globes
On Sunday, a handful of Hollywood's finest walked the Golden Globes red carpet with social justice activists as a way to show solidarity with women everywhere. And while you might not have recognized who Emma Watson brought to the 2018 Golden Globes, you should definitely learn all about her.
Watson walked the red carpet with Marai Larasi, the executive director of Imkaan (UK), which is a leading Black-feminist network organization with members in England, Wales, and Scotland. Larasi is also co-chair of the End Violence Against Women Coalition, which is one of the largest organizations fighting violence against women and young girls, according to Hollywood Life.
No offense to all of the actresses or anything, but Larasi's resume is mindblowing. Not only does she chair those major organizations, she was also named one of the most influential LGBTQ women in the world on the 2013 World Pride Power List. She was also profiled on the United Nation's Women's website. There, she said:
I have been working on ending violence against women for 23 years. BME [Black and minority ethnic] women have always been central to my practice. Even before I had the language to describe 'intersectionality,' I somehow understood that the journeys of BME women and girls were being shaped by exclusion and marginalization in different ways to our counterparts.
Watson is also no stranger to the United Nations. In 2014, she was named a Women's Ambassador. So it makes sense that she, also hailing from the U.K., and Larasi came together for this epic Golden Globes night.
Actresses are pairing up with activists as a show of solidarity with Time's Up, an initiative to create a legal defense fund for lower income women to stand up to employers when they're sexually harassed. The group is also reportedly working on legislation to hold organizations accountable for patterns of internal sexual misconduct complaints.
The women, including Kerry Washington, Shonda Rhimes, Reese Witherspoon, among others, encouraged each other to wear all black on the red carpet and spend the evening talking about gender and racial equality. While some criticized the women for turning it into a "silent protest," bringing activists along ensures that they get asked about the major issues, and hopefully, allow the professional activists to spread their message.
Larasi was looking forward to the event. On Sunday, she tweeted from her personal account:
Tonight a few womyn step out shine a light on violence against women. We do so in acknowledgement of those who have gone b4 us & in solidarity with Survivors / Activists / ReSistahs everywhere. This is one moment in the struggle...it is not the beginning or the end.
She added in a subsequent tweet, "Tonight I walk into this space knowing that my ancestors fought for the simple right to live. Tonight I stand in their honor." Larasi added, "We choose to take our #resistance EVERYWHERE! We stand in #solidarity with each other across our differences & in our commonalities. We say: #TimesUp."
Really, if you weren't feeling totally inspired about taking action in the name of gender equality by the end of Sunday's red carpet alone, what more do you want? Watson wasn't the only actress walking the red carpet with a professional activist in the name of racial and gender equality. Emma Stone walked with Billie Jean King; Meryl Streep with Ai-jen Poo, the director of the National Domestic Workers Alliance; Michelle Williams with Tarana Burke, the founder of the #MeToo movement; and Shailene Woodley with Suquamish Tribe member Calina Lawrence.
In addition to those powerful women, Amy Poehlor brought Saru Jayaraman, president of Restaurant Opportunities Centers, which supports women in the often predatory restaurant industry; Laura Dern walked with Monica Ramirez, a supporter of worker-led movements; and Susan Sarandon came with Rosa Clemente, a political commentator. It was a busy night on the Golden Globes red carpet. Kudos to Watson and her fellow actresses for making sure other voices were heard not just during awards season, but going forward, too.
Check out Romper's new video series, Romper's Doula Diaries:
Watch full episodes of Romper's Doula Diaries on Facebook Watch.