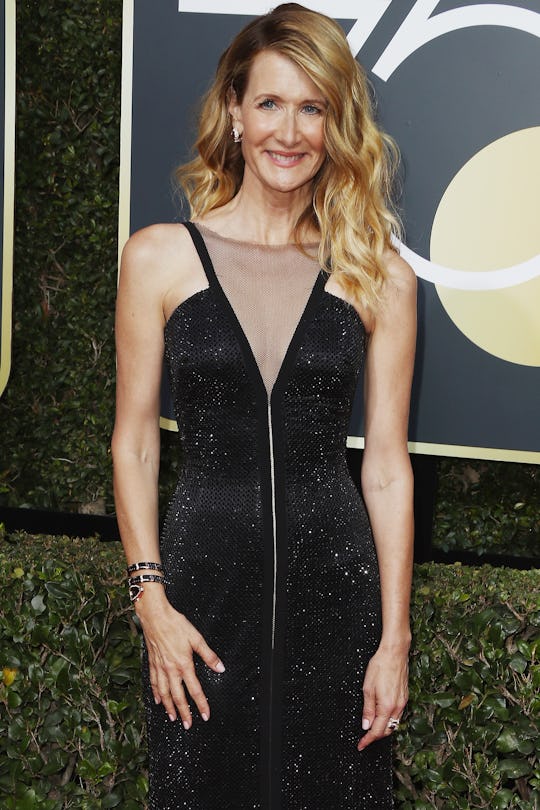 Frederick M. Brown/Getty Images Entertainment/Getty Images
Laura Dern's Golden Globes Date Has Two Decades Of Activism Under Her Belt
In addition to wearing black in solidarity against sexual harassment in Hollywood, a handful of stars at the Golden Globes are taking their moment in the spotlight one step further. Several of them have invited female activists in various fields — many of them queer women and women of color — to be their plus ones to the event. Among them is nominee Laura Dern, one of the stars of HBO's Big Little Lies. So who did Laura Dern bring to the Golden Globes? Mónica Ramírez, the Director of Gender Equality and Trabajadoras' Empowerment at the Labor Council for Latin American Advancement (LCLAA), has been fighting sexual violence against farmworkers for two decades. She also does work on behalf of Latina empowerment more broadly.
Joining Dern in turning the spotlight on women like Ramírez are Amy Poehler, Susan Sarandon, Meryl Streep, Emma Stone, Emma Watson, Michelle Williams and Shailene Woodley. Among the activists who will walk the red carpet alongside them are Tarana Burke, the woman who founded #MeToo back in the 1990s, Ai-jen Poo, the director of the National Domestic Workers Alliance, and iconic tennis player Billie Jean King, who founded the Women's Tennis Association.
"We believe we are nearing a tipping point in transforming the culture of violence in the countries where we live and work," the actresses said in a joint statement to the New York Times. "It's a moment to transform both the written and unwritten rules that devalue the lives and experiences of women."
In addition to her role at LCLAA, Ramírez is also the first Director of Gender Equity and Advocacy at the National Hispanic Leadership Agenda (NHLA), which is a coalition of over 40 Latinx organizations in the United States. She holds a B.A. from Loyola University in Chicago, a J.D. from Ohio State University, and a Masters in Public Administration from Harvard.
Before blazing trails in high-profile positions at Latinx organizations, Ramírez "founded the first state-based legal project aimed at combating gender discrimination against women employed in agriculture in Florida," according to World Without Exploitation. She also cut her teeth at the Southern Poverty Law Center, where she founded the first national legal project to combat workplace sexual violence and gender discrimination against migrant farmworkers and low-income immigrant women. As a Latina organizer for the better part of two decades, Ramirez is incredibly accomplished and an expert voice at the intersection of labor and sexual abuse. It's clear to see why Dern would value her work and want to celebrate it on the red carpet.
Wrote Ramírez in a heartfelt Instagram post on her way to the Golden Globes:
"In a little while I will walk the red carpet with the amazing @lauradern. I am humbled and grateful. I walk on behalf of my ancestors; my family; the hundreds of thousands of farmworker women in our nation; my community; and all of those who paved the way for this movement. It is not my moment. It belongs to all of us. Together we are creating a world where every woman and all people can work without fear of violence against them. It is one where all people can reach their full potential. Each step I take with my sisters tonight is one step closer toward safety, equality and justice for all."
A big part of why Hollywood A-listers wanted to bring these women onto the red carpet with them is to demonstrate how film and television aren't the only industries in which workplace discrimination holds women back. The work of Ramírez and women like her is instrumental on the grassroots level and it has been for decades. It's important to remember that their efforts will continue to lay the groundwork for years to come.
Check out Romper's new video series, Romper's Doula Diaries:
Watch full episodes of Romper's Doula Diaries on Facebook Watch.