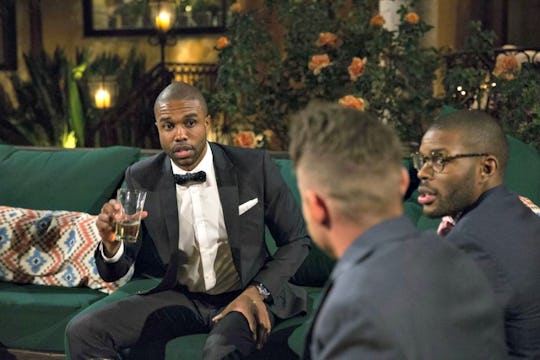 Paul Hebert/ABC
DeMario Jackson Issues Statement About 'Bachelor In Paradise'
After days of fan speculation about why production on Bachelor in Paradise was halted this weekend, more of those who were involved in the alleged incident are speaking out about what might have gone down. On Wednesday, just hours after cast member Corinne Olympios released a statement, the other cast member involved in the alleged incident, DeMario Jackson, released a Bachelor in Paradise statement, laying out his alleged side of the story. Previously, Jackson had only referred to the alleged incident in a set of tweets.
Jackson said in a statement to E! News on Wednesday:
It's unfortunate that my character and family name has been assassinated this past week with false claims and malicious allegations. I will be taking swift and appropriate legal action until my name is cleared and, per the advice of legal counsel, will be seeking all available remedies entitled to me under the laws.
Although Warner Bros. has not issued an official account of what happened, it released a statement earlier this week saying that there was "alleged misconduct" that it was investigating. However, Bachelor Nation is a curious group and anonymous crew members, along with fellow cast members, have been feeding the rumor mills with their versions of what reportedly went down, only complicating the matter further.
What is fairly clear is that the alleged incident likely involves both Jackson and Olympios, though judging from their respective statements, they're not on the same page about what happened.
Olympios released a statement earlier Wednesday saying that she was the "victim" and that what happened on June 4 was a "woman's nightmare." She has also hired Hollywood lawyer Marty Singer to defend her and is reportedly seeking therapy for "emotional trauma."
There are various accounts from cast and crew members about what happened. The most chilling account is one from an crew member who claimed that Corinne and DeMario had been drinking all day together, in order to get to know each other (since they were supposed to have a story line together this season). At a certain point, a sexual encounter allegedly occurred both in and out of a hot tub while both were allegedly intoxicated.
Here's where the story starts to vary: Some cast members on site claimed that they were shocked producers didn't do anything to stop the alleged encounter once Corinne "seemed to go limp," or at the very least, could not consent. Others claim both parties were "lucid." (Those claims have not been verified and remain unconfirmed by both ABC and Warner Bros.)
Two producers have since filed a complaint about the alleged "misconduct." The day after the incident, cast members or crew (depending on which version you're reading) reportedly showed the tapes to Olympios and Jackson, who, according to both of their accounts, allegedly did not remember what happened. Jackson maintained the alleged encounter was consensual and has since asked for the tapes to be released.
Hopefully, Warner Bros. will be able to evaluate the footage and talk to both parties to better understand what happened and figure out how to move forward. Because the longer it stays quiet, the more rumors start to make everything worse for everyone involved.