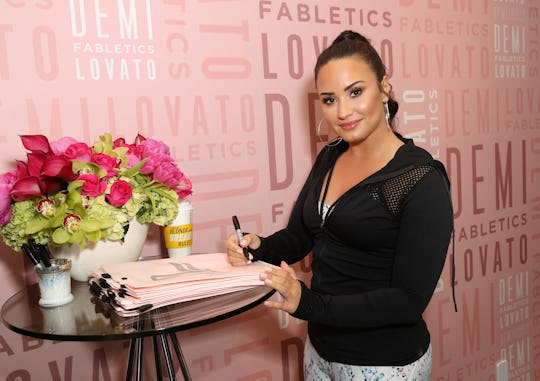 Rachel Murray/Getty Images Entertainment/Getty Images
Demi Lovato Is Back On Social Media For This Powerful Reason
Are you struggling to try to find time in your day to get to the polls and vote in the midterm elections? Maybe even making excuses about why you're simply too busy or too overwhelmed to vote (I'm not judging, by the way, this is me all the time). Well, here's a little bit of incentive for you, an example to follow, if you will. Demi Lovato is back on social media after three months of radio silence due to an alleged stint in rehab. Her reason for coming back? To remind her 70.4 million followers to get out and vote.
The singer hasn't been shared any posts with her followers since July 23, right around the time People and a number of other media outlets reported she was hospitalized for an apparent drug overdose. After she spent a week in the hospital recovering, Lovato allegedly went straight into rehab for three months, as reported by TMZ. The outlet reported that this was a live-in rehab facility, but the location was never shared. Since then, Lovato has kept an understandably low profile as she presumably works on getting better, but even a stint in rehab wasn't enough to keep her from exercising her right to vote, apparently. On Tuesday she shared a photo of herself at a voting booth.
She captioned the photo:
I am so grateful to be home in time to vote! One vote can make a difference, so make sure your voice is heard!🗳 🇺🇸 now go out and #VOTE!!!!
Fans were justifiably happy to see Lovato on social media, with more than 3.1 million people liking her photo within a few hours of posting. And I hope she takes time to read some of the comments from her followers on Instagram, since so many were full of well wishes:
Thanks for voting 🗳 stand strong 💪 ur a beautiful creation of god
girl u look amazing. keep your head up and cont doing u
welcome back, baby. We love you and always be here for you. Stay strong
Welcome back, we love you God give you the strength to stay clean and healthy💖💖💖
This isn't the first time Lovato has used her social media presence to get political, of course. Back in March, the singer performed at the anti-gun violence rally March For Our Lives in Washington D.C. and shared a picture of herself with a group of super ecstatic kids.
Editor's Note: The Instagram post has since been deleted.
She captioned that photo:
"I believe the children are our future, teach them well and let them lead the way" So proud of this generation of millennials coming together to fight for something they believe in. ❤️ #marchforourlives
The midterm elections on Nov. 6 are massively important for the entire country. As Lovato and so many other celebrities who are using their platforms to promote voting point out, one vote really can make a difference.
And if Demi Lovato can come back from a difficult stint at rehab to exercise her right to vote... well, you'd likely be hard-pressed to find a good example to skip your own trip to the polls.