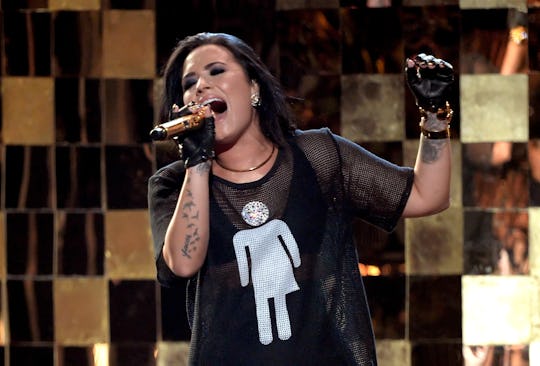 Kevin Winter
Demi Lovato's Shirt At The Billboard Music Awards Made An Important Statement
In an otherwise pop-fueled performance, Demi Lovato's shirt at the Billboard Music Awards made a hugely political — and important — statement. Lovato took the stage following a performance by Nick Jonas to sing her 2015 single "Cool for the Summer" wearing a shirt that had gender-inclusive bathroom symbol: One half depicting the male symbol, the other half a female symbol. It was an incredibly bold statement on the controversial issue of transgender-friendly bathrooms and discriminatory legislation such as North Carolina's HB2 — a move that has proven costly to both the state's image and economy.
Lovato's shirt isn't some random political statement, either. Lovato and Jonas are touring together for their North American Future Now tour. On Apr. 25, the singers released a joint statement on Twitter that they would cancel their North Carolina tour stops in in protest of HB 2. Their statement read in part:
North Carolina's discriminatory HB2 law is extremely disappointing, and it takes away some of the LGBT community's most basic rights and protections. But we will not allow this to stop us from continuing to make progress for equality and acceptance.
But their commitment to the LGBT community doesn't just end there.
According to GLAAD, replicas of Lovato's amazing shirt will be on sale at their concert. Proceeds from the sale of these unique and empowering shirts will benefit two North Carolina LGBT organizations: Equality NC and Time Out Youth. Equality NC has been working tirelessly to get HB 2 repealed and Time Out Youth is a Charlotte-based community center for LGBT youth.
President and CEO of GLAAD Sarah Kate Ellis said of Lovato's support at the BBMAs:
Demi Lovato continues to be a fearless ally for LGBT equality and acceptance. By wearing her support for the transgender community, Lovato is raising critical visibility for vulnerable LGBT North Carolinians and sending an invaluable message of support to transgender people everywhere.
Fans online were also impressed with Lovato's political fashion statement:
Lovato and Jonas both join a growing number of musicians such as Ani DeFranco, Pearl Jam, Ringo Starr, and Bruce Springsteen, who have each decided to boycott performing in North Carolina until HB2 is no longer law. The so-called "bathroom bill" was signed into law by North Carolina Gov. Pat McCrory in March. Earlier this month, the Justice Department filed a civil rights suit against the state of North Carolina on the grounds that HB2 violates the Civil Rights Act.
It's refreshing to see someone was well-known and popular as Demi Lovato take such a public stand in support of the LGBT community, especially using a platform like a BBMA performance to spread a message of tolerance and acceptance.