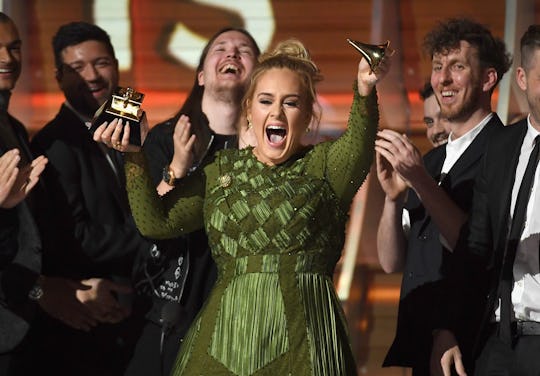 Kevork Djansezian/Getty Images Entertainment/Getty Images
Did Adele Give Half Her Grammy To Beyonce?
While Adele may still be basking in the glow of the five awards she won at Sunday night's Grammys, she was more than happy to share that spotlight with a fellow deserving female artist: Beyoncé. Did Adele give half her Grammy to Beyoncé? Here's how it played out on stage Sunday night: When Adele went up to the stage to accept the coveted album of the year award for her album 25, the British pop diva held up her Grammy Award in two pieces. Adele then spent most of her acceptance speech thanking Beyoncé and her incredible work on Lemonade.
Between her acceptance speech dedicated to Queen Bey and the visual of a Grammy Award split in two, it would appear that Adele just pulled an empowering feminist moment of glory a la Mean Girls. But like any good Hollywood story, there's more than meets the eye: In a video captured backstage at the Grammy Awards, Adele can be seen apologizing for the broken award before handing it off to a crew member before receiving a new award in one piece. Even so, it still doesn't take away from the awesome intersectionality of Adele using her Grammy win to spotlight Beyoncé, either.
Adele's album of the year acceptance speech went through the usual acknowledgments for the win, but then took a more pointed — and poignant turn: "I can't possibly accept this award," Adele said. It was a controversial statement that wasn't about ingratitude, as she continued: "I'm very humbled and I'm very grateful and gracious." Instead, Adele turned her winning moment into one of personal humility, humble deference, and saying what was on everyone's minds when 25 took the award over Lemonade.
But my artist of my life is Beyoncé and this album for me — the Lemonade album — was just so monumental, Beyoncé, it was so monumental, and so... well thought out and soul-bearing, and we all got to see another side to you that you don't always let us see and we appreciate that and all us artists here f*cking adore you. You are our light. And the way you make me and my friends feel — the way you make my black friends feel — is empowering, and you make them stand up for themselves and I love you. I always have, and I always will.
(I'm not crying, you're crying!)
Backstage, Adele reiterated her gratitude to the Grammys, and elaborated further on her need to dedicate win to Beyoncé:
The reason I felt the need to say something is my album of the year is Lemonade. She is my icon of my whole life. I felt like it was her time to win. My view is kind of like "What the f*ck does she have to do to win album of the year?" That's also how I feel. I know the Grammys are very traditional and I just thought that this year would be the year they go with the tide.
What makes this moment so powerful is that it's not as if Adele pulled the "I have black friends" card in acknowledging Beyoncé and Lemonade. Instead, she fully spoke to its importance among her black friends and in turn, the black community — a subtle, but important difference. Black artists have repeatedly been shut out at the Grammys: The Adele v. Beyoncé match-up is hardly the first time a white artist has been awarded over their black fellow nominees. Adele's "What the f*ck does she have to do to win album of the year?" is hardly misplaced, either: Only three black women have even won album of the year: Natalie Cole, Lauryn Hill, and Whitney Houston.
Adele could have just said her thank you's and strolled backstage to toss her Grammy (however broken) into the massive pile of Grammys she already has — but instead, she acknowledged both her personal admiration of and professional respect for Beyoncé, while also addressing her own privilege. Not only that, she did so in such a way that made the problem of diversity and privilege in the entertainment industry apparent without having to rail against the Grammys and instead only lifted up the more deserving artist at the same time.
Regardless of whether you felt Beyoncé deserved to win or not, and even if her Grammy splitting in two was just a coincidental accident, Adele's speech recognizing Beyoncé was an important — and hopefully transformative — moment on race, diversity, and privilege for the music industry.