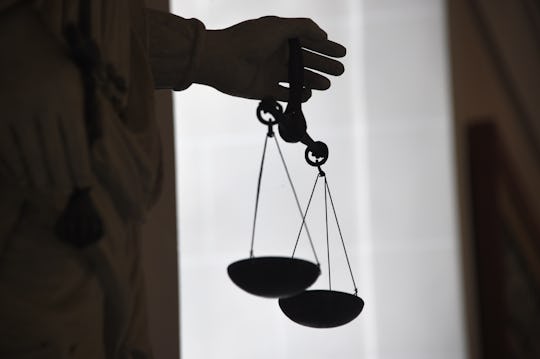 DAMIEN MEYER/AFP/Getty Images
Did Asia McClain Help Adnan Get A New Trial? She Did Not Testify 16 Years Ago
Adnan Syed was granted a retrial with his previous conviction vacated on Thursday. Syed was previously convicted of murdering his ex-girlfriend, Hae Min Lee, in 1999 and has since served 16 years of a life sentence in prison. Syed's story was brought to the attention of Sarah Koenig, the producer of the hugely addictive podcast Serial, and eventually became the subject of the entire first season. Koenig, along with other key investigators working for the show, uncovered a few important pieces of evidence in Syed's case that showed he may have not received a fair trial. One such piece of evidence was an alibi witness. But did Asia McClain help Syed get a new trial?
When Syed was originally convicted of murdering Hae Min Lee, strangling her and leaving her dead body to be found in Leakin Park, there was very little physical evidence presented for the prosecution. It seemed much of the case against him was based on testimony by Jay Wilds, an acquaintance of both Lee and Syed, who testified that he helped Syed dispose of Lee's body, according to ABC News. Since his testimony in 2000, Wilds gave an interview to media outlet The Intercept that contradicted his original statements to Baltimore Police. But it wasn't Wilds who brought about the retrial ordered by retired Baltimore Judge Martin Welch.
Unfortunately for Syed, at the time of his initial trial, his defense lawyer did not call one witness who might have made a difference. Asia McClain, another schoolmate of Syed's, who said she was speaking to Syed at the library at the time the state claimed Lee was murdered, on Jan. 13, 1999.
"I just happened to be at a specific place at a specific time," she said, according to ABC News.
McClain has since come forward and testified on Syed's behalf, and she explained why she's speaking up after 17 years in an interview with ABC News.
"I was compelled by my children. Keeping that legacy, integrity, and stepping up to tell the truth was very important to me," she said. "I want my kids to know their mom was strong."
While McClain's testimony should certainly assist C. Justin Brown, Syed's new defense lawyer, in building a strong case for him, this was apparently not the evidence that brought on a retrial. Welch disagreed with Syed's claim that Syed's original defense lawyer, Cristina Guttierez, made an error when she failed to call McClain to the stand. According to his order, Welch found that, Guttierez failure to get in touch with McClain may have fallen "below the standard of reasonable professional judgment," but that it was not the key piece of evidence to bring on a retrial "because the crux of the state's case did not rest on the time of the murder."
Judge Welch did find the defense remiss when Guttierez did not cross-examine a cell tower expert witness for the prosecution, however. Welch wrote in his order for a retrial, according to CBS News:
The court also finds that trial counsel's unprofessional error prejudiced [Syed's] defense because there is a substantial possibility that the result of the proceeding would have been different but for trial counsel's failure to cross-examine the State's cell-tower witness about the disclaimer.
Guttierez was disbarred in 2001. Syed's defense lawyer Brown has high hopes for the retrial. He credited McClain's testimony and the investigative journalism of the Peabody award-winning Serial for much of the impetus when speaking on CNN's New Day on Friday.
"The (defense) attorney failed to do the simplest thing and just pick up the phone and call this alibi witness and see if she was legitimate. Without 'Serial' ... I don't think we would have gotten as far as we did."
Brown is presently working towards having Syed released on bail.