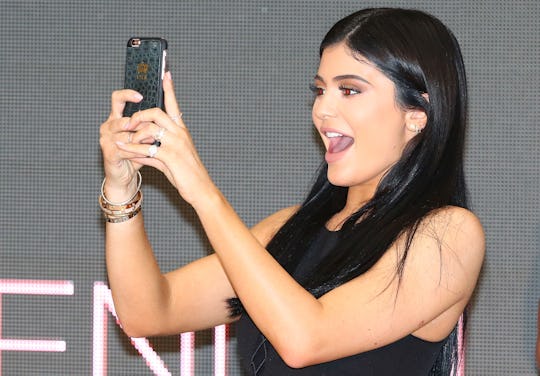 Did Caitlyn Jenner Spend Thanksgiving With The Kardashians? Kylie's Instagram Sure Makes It Look That Way — PHOTO
Alright, Kardashian/Jenner/Disick Family, what are you guys trying to do to us? If Kylie Jenner's Thanksgiving photo on Instagram is, indeed, from today, it would appear that both Caitlyn Jenner and Scott Disick were with the rest of the famous family for the holiday. Kylie wasn't the only celebrity to post pictures of her Thanksgiving Day celebrations, but her post is definitely the only one raising questions. The photo in question shows the whole squad — Caitlyn Jenner and Scott Disick included — posing together at what appears to be a Turkey Day gathering, adding speculation to two already-awkward situations.
Caitlyn Jenner's split from Kris Kardashian has been highly publicized, and often featured on both I Am Cait and Keeping Up With The Kardashians. Their divorce was finalized in December of last year, making national news both because of the fact that everything that family does is national news, and because the two exes never seemed to be on great terms. While some are quick to blame Caitlyn coming out as transgender for the dissolution of their marriage, Caitlyn has insisted that Kris herself and their relationship in general are to blame for the couple's split.
Tensions between Caitlyn and Kris (and really, between Caitlyn and several of the Kardashians, because of her beef with Kris) have been well-documented this year, which makes it a bit surprising to see a photo that seems to imply that who crew might've been breaking bread together. While Kris has been vocal about her support of Caitlyn, she has also been open about the difficult time she had when Caitlyn announced her plans to transition, and how hurt she's been because of some of the comments Caitlyn has made about her along the way. This begs the question, have they buried the metaphorical hatchet? Are the two on better terms now? Did the Kardashijennerwesticks just want to be able to relate to the rest of America on the dinner table awkwardness front?
And then — hold the effing phone — look who else is in the photo: Kourtney Kardashian's estranged boyfriend, and father of her three kids, Scott Disick, who recently completed treatment at a drug and alcohol facility. Scott's continued bouts of engaging in drug- and alcohol-fueled marathon parties have instigated many fights and even breakups with Kourtney. That pair have been off "for good" for a number of months now. That said, the couple was recently seen together at a cafe in Los Angeles, the first public outing since they split last summer. Scott has also been public about his relationship with new-girlfriend, 18-year-old model Lindsay Vrckovnik. Are Scott and Kourtney getting back together now? Does his presence at Thanksgiving Day dinner mean Kourtney is willing to look past his addictions? Are they just keeping things ~cool for the kids~? What about his new girlfriend? There's so many questions, you guys!
Kylie's older sister Kim (maybe you've heard of her?) later tweeted the same photo:
Of course, to get any answers we'll probably have to tune into the next episode of Keeping Up With The Kardashians. But until then, rest assured we'll be heavily researching this infatuating family's social media accounts for tiny clues and helpful hints.
Images: Scott Barbour/Getty Images; Kylie Jenner/Instagram; Giphy