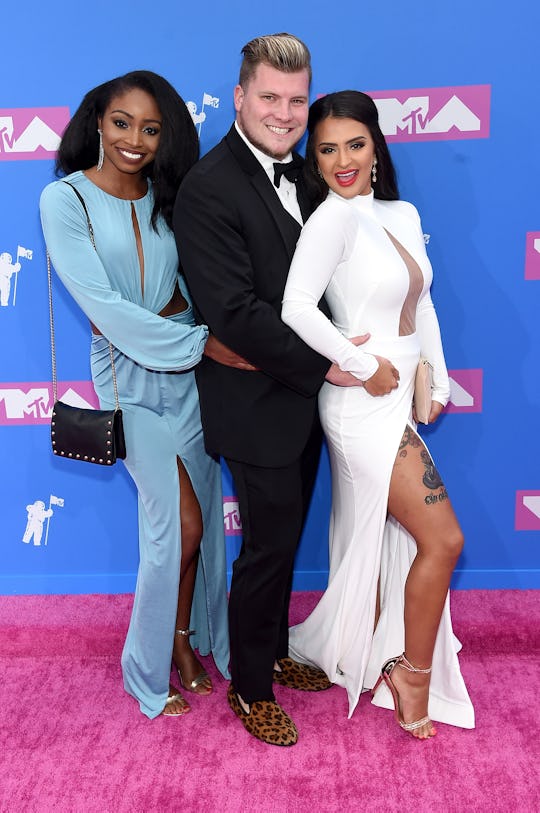 Jamie McCarthy/Getty Images Entertainment/Getty Images
Codi's Crush On Candace On 'Floribama Shore' Could Lead To Something More
Codi has had a thing for Candace since Floribama Shore Season 1, so it was all the more satisfying to see her agree to a date during the first part of Season 2. It didn't lead to any obvious romantic sparks, but they did sleep together. Let me clarify — they slept in the same bed. Now going into the second part of Season 2, you have to wonder if Codi and Candace got together after Floribama Shore finished filming.
After Codi finally asked Candace on a date and she agreed, she later went back on it and turned him down. It may have had something to do with the guy Candace was kind of sort of seeing at the time, known as "Gator Jay." But it could be that the attraction was just one-sided. Codi spoke with TooFab about his current status with Candace, however, and according to him, never say never.
"I will say this," he said. "I can let you know that there might be a situation where we get to actually really go on a date. So round one didn't really work out as planned, maybe round two you reckon to see Codi and Candace go on a date. I don't know."
Candace's obligation to Gator Jay seemed to squash the possibility of getting together with Codi, but it doesn't look like Codi is ready to call it quits just yet.
Unfortunately, there aren't many social media clues to say one way or the other if Codi and Candace got together after they finishing filming Season 2. The lack of photos of the two of them on their respective Instagram accounts could be telling, though. While there are a couple photos of Candace and Codi alone together, it would seem that he's still up to his flirtatious ways with other women. A trait, mind you, that caused Candace to initially not take him seriously about his feelings for her. I don't think they're together outside of Floribama Shore, but they might get a little closer in the upcoming episodes.
In a recent game of "Goss or Sauce" with Life & Style, in which the Floribama Shore cast had to "goss" and answer a question truthfully or "sauce" and eat a chip dipped in hot sauce instead, Codi hinted at something happening between him and Candace before the season is over. While Codi first tried to get away with a coy, "I don't know, maybe," when asked if they kiss, he did admit, "Yes, we do."
During one of the sneak peek scenes from the Floribama Shore catch-up episode that aired on MTV, Candace agrees to a date with Codi and later tells him, "I don't have sex on the first date."
Personally, I don't see much evidence that Codi and Candace are in love, but that's not to say that they aren't still good friends. You kind of have to be if you plan to continue to be on a reality TV show with someone you may or may have almost hooked up with.
Fans who still ship Codi and Candace still have the rest of Season 2 to see what happens between them on the show, but outside of Floribama Shore, they're likely just friends.
This first-time mom wants to have a home birth, but is she ready? Watch how a doula supports a military mom who's determined to have a home birth in Episode One of Romper's Doula Diaries, Season Two, below. Visit Bustle Digital Group's YouTube page for the next three episodes, launching every Monday starting November 26.