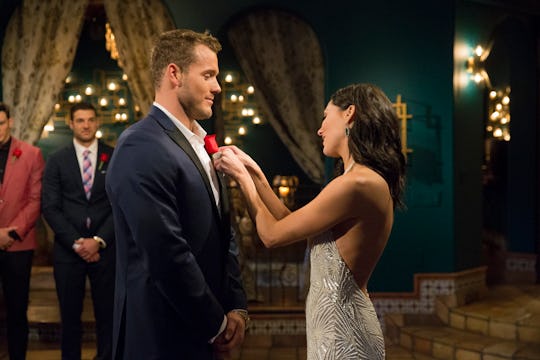 Paul Hebert/ABC
Colton May Have Just Revealed A Bombshell About His Ex Aly Raisman
This season of The Bachelorette is full of men who have been the subject of off-screen drama, and one contestant who fits that bill is Colton. During Monday's 1-on-1 date, did Colton reveal Aly Raisman broke his heart on The Bachelorette? He's the only contestant this season with a famous ex, and he says he's only "been in love" once before... and I don't think he's talking about Tia.
When the show started, Colton was in the news because of his famous ex, gymnast Aly Raisman. The two began dating publicly in December 2016, but they had been dating since the 2016 VMAs. They actually met online: Colton asked her out during a video Q&A! They were both in Denver at the time and went out, first publicly appearing at the Sports Illustrated Sportsperson of the Year ceremony. They also appeared at the 2017 Golden Globes together.
Unfortunately, the relationship did not last. Colton and Aly broke up in August 2017. In an interview with the Lincoln Journal Star, Colton explained why he and the Olympian split. The reason he gave was distance: he was in Colorado, while she was in Massachusetts. "We're taking a break right now," he told the Star. "We're still good friends and talk, but all that travel had been a nightmare."
Colton also attributed the media attention as a reason for the break-up. "It put a lot of pressure on us, sure, but we had fun with it. A lot of fun date nights," he said. "Those six months were great."
On Monday night, however, he revealed some information to Becca that he didn't say in interviews — and if he's talking about Raisman, he doesn't exactly cast her in a positive light. After Colton and Becca's camel adventure, they did the typical 1-on-1 routine of eating dinner and getting deep about their pasts. Colton revealed that he's only been in love once before... and it may have been one-sided.
"I said 'I love you' in the beginning, very quick, and I didn't get it back," he said about his ex. "And I've only been in love once, so it was hard for me, because you don't feel like you're enough. Or you feel like you're missing something." Now, there's no confirmation that this is definitely about Aly Raisman, but I think it's a high possibility, especially because Colton said this happened after college. Twitter was quick to assume he was talking about Raisman, too.
Colton continued to talk about this mystery break-up: "She broke up with me. I think that's sort of why, for me, being in love has confusion and pain associated with it. I don't want you to think just because I've only been in love once that it's in any way a bad thing." He also told Becca, "For me, the word love, to me, means so much just because it's only happened once and I hold it so high that I don't just throw it out there. And I don't use even falling in love lightly and I want you to know that."
He said he wasn't on the same page in the last relationship (but feels that he and Becca are). Colton mentioned nothing about long-distance, or being in the public eye, but I doubt he would because that would be a dead giveaway. Regardless, this sounds like Colton's only serious relationship in his life thus far. Judging by all the appearances they did together, he and Raisman seemed serious at the time. He did tell the Lincoln Journal Star that they are still good friends... was Colton lying? Or is he just talking about someone else now? There's no defining information as of yet — and I won't be surprised if there never will be — but is nonetheless suspect of Colton to discuss his Olympian ex with Becca.