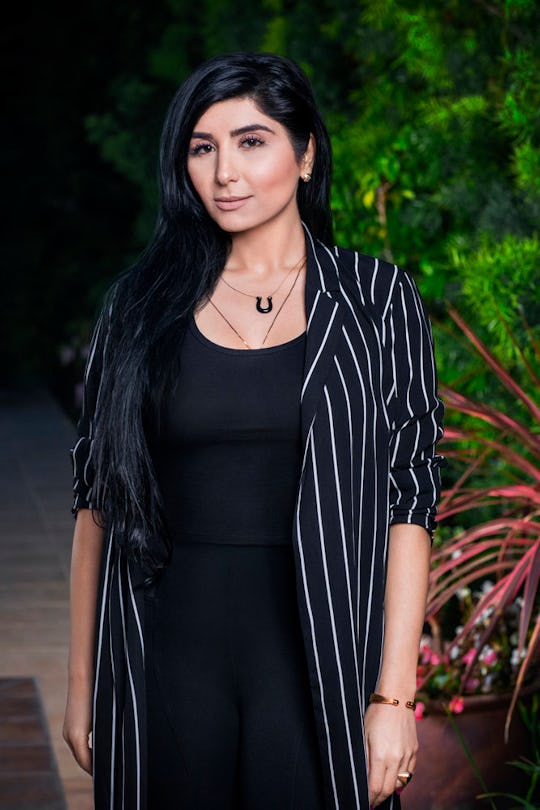 Trae Patton/Bravo
Destiney's Search For Her Dad On 'Shahs Of Sunset' Is Important This Season
Destiney Rose's biggest storyline on Shahs of Sunset so far has been about her search for her dad. As she explained earlier this season, she didn't know him much growing up and only saw him a handful of times. Now she believes that some of her issues with dating are related to the absence of her father and has employed professional help to find him. So did Destiney find her father on Shahs of Sunset? She didn't have a lot of information to go on before contacting a private investigator, but as it stands, it's unclear if she got the answers she was looking for.
In a recent episode, her private investigator told her that she wanted to wait to tell Destiney about her findings until she had more information and to Destiney, this meant prolonging a potential reunion that might not ever come. She told Golnesa "GG" Gharachedaghi that because of her father's age, she feared that time wasn't on her side in finding him before he possibly died. That's a legitimate concern — and it was also probably hard for her to come to terms with realizing that she still had no closure in the mystery of her father.
Earlier this season, Destiney revealed that the last time she saw her father was 10 years ago, and that she lashed out at him at the time. As a result, their relationship suffered and since then, she hasn't heard from him. Going by what Destiney's mother has said about her father on the show, it's possible that he has another family somewhere, though that's mostly just speculation right now. Destiney did admit to finding multiple pieces of identification from several different countries in his suitcase years ago when her mom initially brought him back home to see Destiney. Um, wow.
When Destiney appeared on Watch What Happens Live recently, she teared up when she told Andy Cohen how difficult the search for her father has been, while saying how grateful she was to Reza (who she's apparently known since she was a month old) for being there for her throughout everything. But does that mean that now, after Shahs of Sunset Season 7 has finished filming, she still doesn't have answers and still hasn't found him? There are also no signs on Destiney's Instagram that she has a relationship with her father at this time. So really, who knows. Would she have posted something about him on her social media if she did find him? Could the meeting have gone south?
Honestly, sometimes just getting one final meeting or some new information is closure enough to help a person move on. One of Destiney's biggest reasons for seeking out her father at all was because she wants to be able to have healthier relationships and she believes his absence from her life has something to do with her inability to do that.
Whether it's true or not, finding her father has been Destiney's goal on Shahs of Sunset throughout Season 7 and it's still not clear if she found what she was looking for.