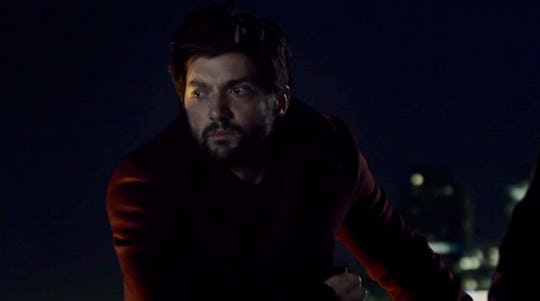 ABC
Did Duncan Howell Know Who The Second Bomber Was On 'Quantico'? He Might Have Known Too Much
It was a shocking return after the midseason break to find Duncan Howell jumping to his death on Quantico. We didn't know much about him, but we knew that the hacktivist had helped Alex clear her name at a time when no one would believe her innocence. After he jumped, the question had to be asked: Why did Duncan Howell kill himself? Did the pressure get to him, or did he know something about the second bomber that made him feel the need to jump? Judging by his last words, it seems like the latter lead him to his death.
On the midseason premiere, Duncan Howell jumped off of a bridge, but not before telling the police officers who were trying to stop him that he "didn't have a choice." Although it was suggested that he didn't want to face the 10 year prison sentence he had acquired because of his crimes, his final statement felt much bigger, as if it were maybe referring to the identity of the second bomber.
As Alex suggested in the midseason premiere, someone might have gotten to Duncan. His jump seemed to be rooted in fear. It is as if someone was holding something over him that caused him to end his life, and that someone might have just been the second bomber.
We don't know if Duncan learned something about the second bomber's identity, but we do know that he is a hacktivist, so something tells me he never stopped looking into it. If he did stumble into something incriminating, he might have set off alarms with the second bomber. If he found enough information to expose the second bomber, Duncan was as good as dead.
Alex doesn't suspect that Duncan would commit suicide without a nudge from someone else. She has to know that he must have gotten close to something, causing his life to become a non-essential for the second bomber. Now, it's just a matter of Alex finding out whatever it is Duncan might have known.