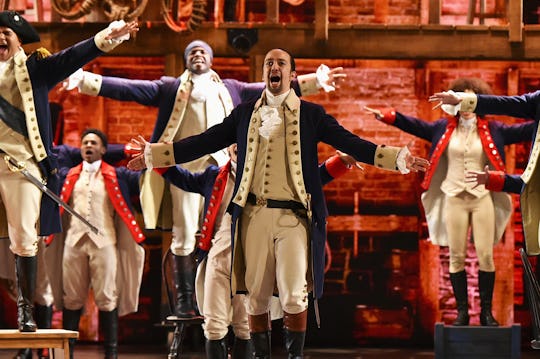 Theo Wargo/Getty Images Entertainment/Getty Images
Did 'Hamilton' Break A Tonys Record? They Won An Impressive Number Of Awards
If you've been trying to get a ticket to see the Broadway musical Hamilton, you're probably going to have to wait a whole lot longer now that it just won 11 Tonys at the 70th Annual Tony Awards on Sunday night. But did Hamilton break a Tonys record with this win? Although the musical itself has shattered box office records on Broadway, Hamilton didn't break the Tony win record on Sunday, coming up just one award short of the previous Tony Award record holder — 2001's The Producers — the musical adaptation of the film took home 12 Tony Awards that year.
Still, Hamilton had a lot to celebrate on Sunday night as Broadway's darling took home Tony Awards for Best Musical, Best Original Score, and Best Actor in a Musical for Lin-Manuel Miranda's performance as the titular American patriot. Hamilton also holds the record as the musical production with the most Tony Award nominations.
This wasn't the first Tony Award for Miranda, the musical and lyrical force behind Hamilton. After tonight's show, he can add three more Tony Awards to the Best Original Score and Best Musical he won for his 2008 production, In the Heights. Miranda faced off against fellow Hamilton star Leslie Odom, Jr., who played Aaron Burr for Best Performance by a Leading Actor in a Musical — and in a surprising "upset" it was Odom who snagged the Tony Award.
Of the 16 nominations it received, of which it could win 13 Tonys, Hamilton didn't snag the Tony Award for Best Scenic Design in a Musical or Best Leading Actress in a Musical. But it's no surprise that Hamilton took home as many Tony Awards as it did Sunday night. The awards show had been dubbed the "Hamiltonys" by fans and critics alike. Hamilton has already broken Broadway records with over $1.37 billion in ticket sales and a mind boggling 13.3 million attendance.
At this rate, Hamilton could very well be on the path to try knock Andrew Lloyd Webber's The Phantom of the Opera as the longest-running Best Musical on Broadway — the show certainly has captivated fans and has already sold out well into next year. Tickets to Hamilton are practically worth their weight in gold right now and after Sunday's 11 Tony wins, demand for the show is only bound to continue exponentially.
Fans and critics knew well before the Tony Awards this year that Hamilton was something special. The musical has been praised for its diversity, style, and historical accuracy, among other reasons why Hamilton is so popular right now. Now that Hamilton has the Tony Awards — even if it didn't break records at Sunday night's awards show — the musical powerhouse looks like it's on track to break plenty of other records with its Broadway run.