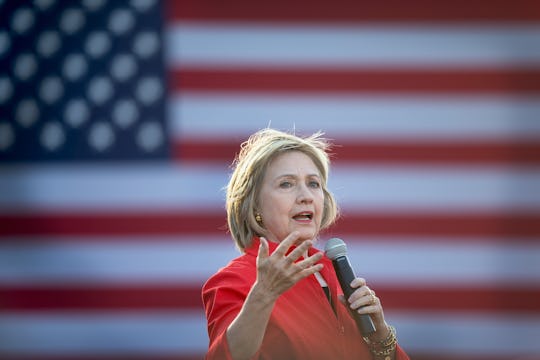 Scott Olson/Getty Images
Did Hillary Clinton Watch Donald Trump's 'SNL'? She "Might" Have, If Her Kimmel Interview Is To Be Trusted
In case you were wondering, the animosity between Hillary Clinton and Donald Trump is legit. So did Hillary watch Trump on Saturday Night Live? While appearing on Jimmy Kimmel Live earlier this week, Clinton said she "might" watch Trump on SNL — though she did so with the fakest of smiles. While Trump insists that he'd love to run against her because he could beat her in a race and she pokes fun at his hair and character flaws, we have to assume they really don't like each other. 
One of the only times Hill's cracked an easy smile was in September when she made fun of Trump on Fallon. When she pretends to get a pen to take notes in the sketch (and grabs a class of white wine instead) it shows how not seriously she takes The Donald. 
But you have to assume she's dying to to see how people will react to his hosting SNL in comparison to how they reacted to her appearance as Val the bartender early in October. She told Kimmel: "I think he watched me."
Funny enough, Trump didn't make fun of Hillary tonight. In fact, he steered very far from politics and the campaigns in general (probably because that would give anyone with an FCC Equal Time complaint a real reason to file).
Of course she's watching from the campaign trail. Now we just have to wait to hear what she thinks about his performance. 
Image: Scott Olson/Getty Images