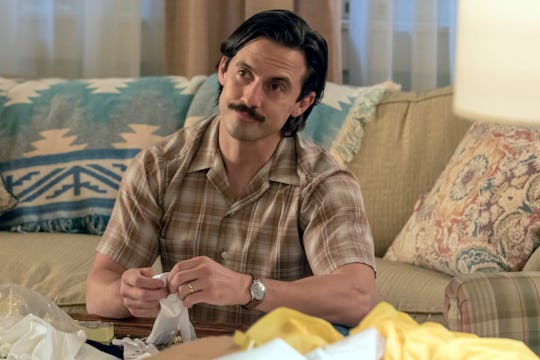 Ron Batzdorff/NBC
The Person Responsible For The House Fire On 'This Is Us' May Surprise You
Pretty much everyone expected the Season 2 premiere of This Is Us to end with the bombshell that it did, but did anyone really anticipate the mountains of other questions that came with knowing the Pearson family house burned down and a few months after moving back home, Jack was somehow gone? And speaking of everyone's favorite TV dad and husband, you kind of have to wonder, did Jack start the fire on This Is Us? If he did, there's no way it was intentional, but his absence at the end of the premiere was linked up pretty closely with the big reveal of the skeletal remains of the house, so the two definitely have something to do with each other.
In fact, I still can't get over how Rebecca and Jack reconciled. After he decided to wallow in his own self-pity and denied her help in getting sober, it seemed like the episode was over. Then, she knocked on the door and basically forced him into the car, assuring him that in a few months' time, things would be better. So I'm inclined to believe that a few months later, things might not have been better, though at this point, with so little to go on as far as the who/what/why of the house fire, the culprit (accidentally or no) could be anyone.
But could Jack have started the fire on This Is Us? Even if he overcame his drinking problem, it's still very possible that he's responsible for the fire in some way.
The big takeaway from the season premiere of This Is Us was that the house fire and Jack's death are somehow related. Since there aren't enough additional clues to support that, though, it's hard not to wonder the source of what started the initial spark. Kate made it clear back in Season 1 that she places the blame on herself for Jack's death, but of course that doesn't mean the fire itself. Jack could have been the cause of the fire and went back inside the house to save Kate or that random dog she was holding and that could be her reasoning behind the weighted guilt.
The most logical (and heartbreaking) way Jack could have started the fire is that his drinking led to the accident. It might be almost predictable, since Jack's drinking was such a huge part of the series for so long, but it would also make sense. Maybe he falls asleep and forgets about dinner on the stove and by the time he wakes up from a alcohol-induced nap, the house is engulfed in flames.
Another way Jack might have started the fire on This Is Us, according to this theory from Time.com, is by accident while doing construction on the house. Now, I would probably expect a sawed off finger as more of a home construction accident, but there's a chance that the fire was electrical and in remodeling the home in some way, Jack overlooked important things and accidentally started a fire. It could also support Kate's guilt, in that Jack could have been working on renovating a portion of her bedroom when the accident occurred, so she feels in some way responsible (though, of course, she isn't).
What fans do know is that the cause of the fire is going to be difficult to deal with. This Is Us creator Dan Fogelman opened up to Entertainment Weekly regarding some of the clues about Jack's death on This Is Us. "What causes the fire is going to be heartbreaking," he revealed, adding:
The small movements of our lives, and how big they can become if little things break the right way or the wrong way — I've always been fascinated by [the fact that] you could have met your husband or your wife if you had just not gone that way at the bar that night, or the friend hadn't wanted to set you up. The great things in your life, how easily that sliding door could have gone a different way, as well as the tragedy. That's part of our story.
There's not a lot to go on just yet to definitively say either way if Jack caused the fire, but given the tragic turn his life took once drinking got the best of him and negatively impacted his marriage and family as a whole, it's definitely a possibility.
Watch Romper's new video series, Romper's Doula Diaries:
Check out the entire Romper's Doula Diaries series and other videos on Facebook and the Bustle app across Apple TV, Roku, and Amazon Fire TV.