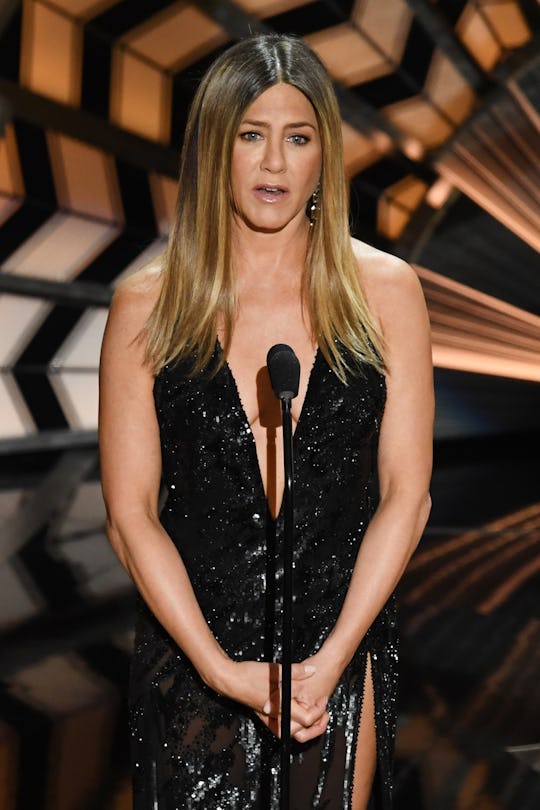 Kevin Winter/Getty Images Entertainment/Getty Images
About That Bill Paxton Oscars Tribute
On Sunday night, actress Jennifer Aniston introduced the Oscars In Memoriam segment, which honors members of the Academy that died in the previous year. Actor Bill Paxton's death was announced on Sunday morning, so it was unclear if he would make it into the montage. He didn't in an official capacity, but it seemed to some that presenter Jennifer Aniston may have known Bill Paxton personally, since she teared up while mentioning his name at the start of the somber segment.
As a hardcore '90s movie buffs, I can assure you that Paxton and Aniston have never appeared in a film together, so it's not like they knew each other from sets. But that doesn't mean that they didn't know each other personally. It's hard to know how TV and film stars of Aniston and Paxton's caliber were all that close.
If you think about it though, in the most respectful way possible, the two were same sort of "famous." Paxton had a lot of great roles throughout his career and Aniston is best known for her role on friends, but it's very likely that their paths crossed at some point or another. And really, does one have to be BFFs with someone they respect in their industry to feel sad that they died? Of course not.
As she announced the always sad montage, Aniston choked up when she mentioned Paxton's name, reminding the audience that a familiar face was not just missing from the crowd, but also from the incoming video package of stars. The Academy prepares them in advance and since many of the stars, like the films they are nominated for, are honored for the previous year, it wasn't a slight from the Academy that Paxton was left out.
It was obviously a logistical thing to ensure his tribute made it into the already produced montage of stars that included Debbie Reynolds, Carrie Fisher, and even Mary Tyler Moore. Aniston's choke up was sincere.
Paxton passed away on Saturday morning due to complications from heart surgery at the age of 61. He was best known for his roles in Aliens, Twister, Apollo 13, or any other movie you ever saw in the '90s. He was a Hollywood icon and although he wasn't featured in this year's In Memorium montage, he will surely be remembered in next year's.
Aniston's choke up wasn't about the fact that they were best buddies — although they could have been. But more about film buffs and Hollywood stars losing one of their own.