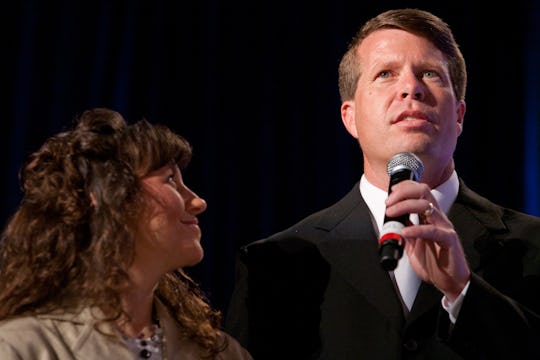 Brendan Hoffman/Getty Images Entertainment/Getty Images
The Duggar Kids Don't Go To Traditional College, But Did Jim Bob Duggar?
The notion of college is an especially prickly one in the Duggar household for a few reasons. First of all, Michelle Duggar is a huge fan of homeschooling and she hasn't said too much about trying to teach college-level courses to her kids. The Arkansas-based family doesn't appear to be a big fan of anyone leaving their town of Tontitown let alone the state, which could make college learning tricky. But what about the patriarch of the family? Did Jim Bob Duggar go to college, or is he a self-educated man like some of his children?
The father of 19 and former star of the TLC series 19 Kids & Counting is a real estate developer and served in the Arkansas House of Representatives from 1999 to 2002. But he doesn't appear to have attended college; despite his time in the political arena and his thriving real estate business, the last time Jim Bob Duggar attended school was in high school. He attended Shiloh Christian School in Springdale, Arkansas, which was where he met his future wife and reality television co-star, Michelle Ruark, according to the Duggar Family Blog.
Jim Bob reportedly took Michelle to the Shiloh junior-senior banquet, according to TLC, which I believe is something along the lines of a prom, and then took her back to her family home to chat in the living room. They fell in love, got married, and neither of them bothered with post-secondary education.
Jim Bob might not have gone to a formal college, but he did get his real estate license when his family was younger. From there he moved on to his political career before losing to Sen. Tim Hutchinson in a bid to move to the U.S. Senate in 2002 (Hutchinson tripled Duggar's votes in that election). And in 2001, according to Business Insider, he attended a financial seminar about property development... in his years before becoming a reality star, this was how he made the bulk of his money. Jim Bob now runs a successful commercial real estate business, according to In Touch Weekly, which coincidentally employs several sons.
To date, Jim Bob Duggar's net worth reportedly sits at an estimated $3.6 million, according to The Hollywood Gossip.
The Duggar family might not be big fans of bricks and mortar colleges, but some of them have managed to get something of an education. For example, Jana Duggar has taken some midwifery classes and works part-time as a doula, according to She Knows.
Michelle Duggar also wrote in a 2012 blog post for TLC that several of her children were taking online courses through the Christian online post-secondary education program College Plus:
The great thing about it is it's a distance learning program, for the most part, and then you have a coach who will come alongside you and assist you in studying and preparing for your courses. Taking the courses online works with your schedule so that you're still able to work or pursue other experiences while studying. Also, the cost is minimal compared to the brick-and-mortar universities, and as a large family with a debt-free policy we've been really pleased with that.
If the Duggar family were to send all of their 19 children to college, the cost would be astronomical. So if the prohibitive cost is what is holding them back, I get it. But perhaps it's less about cost and more about the way the family looks at education. Jim Bob Duggar, like him or not, is a successful businessman. And he appears to have come by his success without an education. I guess you can't blame the guy for not worrying too much about college then, right?
Check out Romper's new video series, Bearing The Motherload, where disagreeing parents from different sides of an issue sit down with a mediator and talk about how to support (and not judge) each other's parenting perspectives. New episodes air Mondays on Facebook.