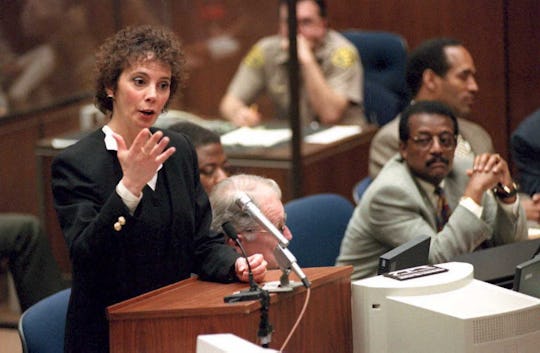 POOL/AFP/Getty Images
Did Johnnie Cochran Really Mock Marcia Clark's Childcare Issues In Court?
Did he really go there? Legendary lawyer Johnnie Cochran may be one of the most well-respected and well-known characters from FX's The People v. O.J. Simpson: American Crime Story, but was he actually a sexist jerk? The real MVP from the show is his opponent, our girl, kick-ass prosecuting attorney Marcia Clark. She had to deal with all sorts of work-related-sexism and personal drama during the case, that would for sure make any mother, let alone working lady, want to freak out. Like when her personal life came up in the oh-so-famous trial: Did Cochran really mock Clark's childcare issues in court?
The former prosecutor was going through an intense divorce with the father of her two children during the time of the O.J. Simpson murder trial. In turn, Cochran allegedly accused her of neglecting their two, young boys while the case was going on. Yep, he went that route. You know, and said the one thing any working mother would hate to ever be accused of?
Of course, nothing from that already-dreaded situation stayed private for Clark, and soon, she found her own personal life story in the same tabloids Simpson was in. Clark never mentioned anything about Cochran or her other opponents in a recent American Crime Story interview, but it's been speculated that he brought up her childcare issue in court while their trial was going down.
In a recent episode of The People v. O.J. Simpson: American Crime Story, defense attorney Cochran mocked Clark and joked about the prosecutor's "babysitting problems." In turn, Clark then bitterly refuted Cochran's claims with a searing comeback of her own.
"She slammed him in a speech that should inspire all working mothers to cheer," wrote Refinery29's Heather Wood Rudulph, in a recent column. "She never showed she was scared, and was confident in the evidence, precise in her direction to her colleagues, and unrattled by big-wig lawyers Robert Shapiro and Cochran, who reportedly played dirty."
She's not stressing any of that today, though. Clark's actually really happy with how the now, mega-hit show turned out...even if it portrays a crappy time in her life. She wasn't down with the situation at first, though.
"I thought it'd be like reliving a nightmare," Clark recently told People. "I didn't want to live through it again." She added that she was "really glad" that the show addressed the larger issues at hand in the case. "[They] pull out the stuff that is important," she said. "It turned out to be a really good thing."
Clark explained that as long as the show-runners told the "true story and hit the big issues", American Crime Story could actually do something bigger than it ever intended. "... There are people who need to know about what happened," she said.
Now, at least viewers have an insider's view on what Clark faced, too.
Ed. Note: An earlier version of this story did not properly cite a Refinery29 post on Marcia Clark's speech in 'The People v. O.J.: American Crime Story.' Romper regrets the error.