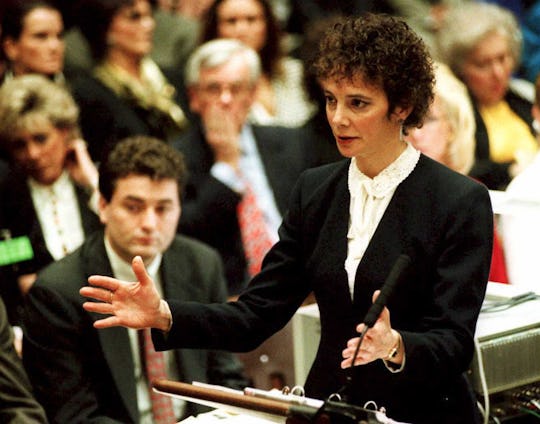 POOL/AFP/Getty Images
'People v. O.J.' Shows Sexism Marcia Clark Faced & It's Pretty Disheartening
FX's American Crime Story has quickly become a hit, and with good reason: The American public seems just as interested in the O.J. Simpson case today as it was two decades ago. What they are seeing for the first time, however, is the behind the scenes. The show does a masterful job at portraying the real-life people and events. One important aspect of the original case that people are talking about is the sexism prosecutor Marcia Clark faced, that People v. O.J. presented in this week's episode.
Sarah Paulson, who plays Clark in the series, told TVGuide.com about the hardship Clark encountered throughout the trial and afterward. "I do think Marcia was vilified," Paulson said. "She was a woman in a man's world that was not given a lot of respect."
In the episode, Clark experiences sexism during jury selection. She discovers that potential jurors were less inclined to like her than the defendant's lawyer, and when she confronts her colleagues about it, they tell her,
You might want to consider softening your appearance.... Wearing more skirt suits instead of pants.
As Rebecca Traister points out in her piece for The Cut (New York Magazine), Clark was bashed in the media during the trial as well. She was targeted not only for her work as a lawyer, but, again, for her appearance and dress. According to the outlet, Judge Lance Ito, for example, told the jury not to be "distracted" by the council's clothes, referring to Clark's wardrobe. Tabloids later aired details about her private life, like the custody battle for her children and topless photos.
Then, of course, the public and defense mocked Clark professionally. Johnnie Cochran, one of Simpson's lawyers, reportedly called Clark "hysterical", according to The Cut. She was also called a "bitch" and incompetent, and blamed for losing the case.
As Traister describes, Paulson met Clark for dinner prior to the American Crime Story premiere. She told Clark that the series would be looking at Clark through a different perspective: a feminist reexamination of her role and how the media treated her.
Episode four kept Paulson's promise. Partway through the episode, Clark's reasoning for the jury is not taken seriously by Los Angeles D.A. Gil Garcetti. Potential jurors, both men and women, detest her in the episode. In a round table, they call her a "bitch" and say they would "not want to be her boyfriend."
After the session, Clark is told that black women do not like her, and she should try to appeal to jurors more by changing her hair style or "trying to smile more."
Videos of Clark during the trial recently resurfaced. At the time of the case, Clark already had 13 years of experience at the D.A.'s office, but despite all her work, it seems that the public and the media couldn't put old habits aside.