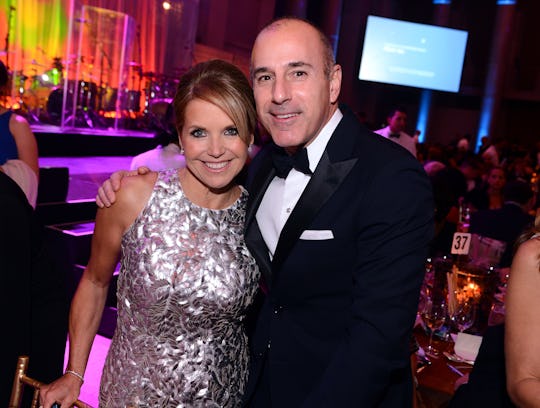 Stephen Lovekin/Getty Images Entertainment/Getty Images
Did Katie Couric Know About Matt Lauer? The 'Today Show' Hosts Worked Together For 15 Years
In just two days, the 2018 Winter Olympics will get underway in PyeongChang, South Korea. NBC will broadcast the Olympic Games in the United States, with Katie Couric serving as co-host for the opening ceremony. Couric's return to NBC comes more than two months after the network fired her former colleague Matt Lauer for allegations of sexual misconduct. After the news broke, many of her fans have wondered: Did Katie Couric know about Matt Lauer? The former Today Show anchor has addressed his dismissal and the allegations only recently. (Romper reached out to Couric and Lauer for comment, but has not heard back in time for publication.)
Couric opened up about Lauer's dismissal in an exclusive interview with People last month. She told the outlet that the situation has been "very painful for her," and that the accounts she has "read and heard" have been "disturbing, distressing, and disorienting." Couric added, "It's completely unacceptable that any woman at the Today Show experienced this kind of treatment,," according to People.
Lauer and Couric have a long history as colleagues. They worked together at NBC for 15 years, from 1991 to 2006, according to Today. Lauer joined Couric at Today in 1997, according to US Weekly; Couric left the network in 2006 to join CBS Evening News.
The journalist and author told People in January,
I had no idea this was going on during my tenure or after I left. I think I speak for many of my former colleagues when I say this was not the Matt we knew. Matt was a kind and generous colleague who treated me with respect.
Couric also referenced her 2012 appearance on E!'s Watch What Happens Live with Andy Cohen, where she commented that Lauer "pinched me on the ass a lot" when they worked together. TMZ posted the clip of her appearance after the sexual harassment allegations against Lauer first surfaced. It soon began circulating online.
TMZ wrote at the time,
What's interesting ... Katie's answer came and went ... it was hardly picked up by the media. It's interesting ... NBC said no one has complained until this week, yet their longtime co-anchor talked about ass-pinching in 2012 and NBC apparently didn't bat an eye.
But Couric claimed in her People interview that her comment was "a joke." Specifically, she said,
In fact, a joke I once made on late-night television was just that, because it was completely contrary to our brother-sister relationship. It's still very upsetting.
In her interview, Couric also praised Today hosts Savannah Guthrie and Hoda Kotb, as well as "the entire Today show staff," for how they "handled a very difficult situation," according to People.
Couric first broke her silence on the sexual misconduct allegations against Lauer in December through Instagram, US Weekly reported. An Instagram user commented on a photo Couric posted on Dec. 7, 2017, asking the 61-year-old former Today anchor if she had any thoughts on Lauer's firing in November. NBC terminated the 59-year-old Today host after Variety published an expose detailing the findings of its two-month investigation into multiple sexual harassment allegations against Lauer.
At the time, Couric replied to the Instagram user, according to US Weekly,
It's incredibly upsetting and I will say something when I'm ready to. Thanks for your interest.
Couric will join NBC Sports anchor Mike Tirico on Friday for the opening ceremony of the 2018 Winter Olympics in PyeongChang. This stint will be her first Olympic broadcasting gig in 14 years, according to People. NBC reportedly hired Couric in place of Lauer, who had previously served as the NBC commentator the Olympic Games.
Check out Romper's new video series, Romper's Doula Diaries:
Watch full episodes of Romper's Doula Diaries on Facebook Watch.