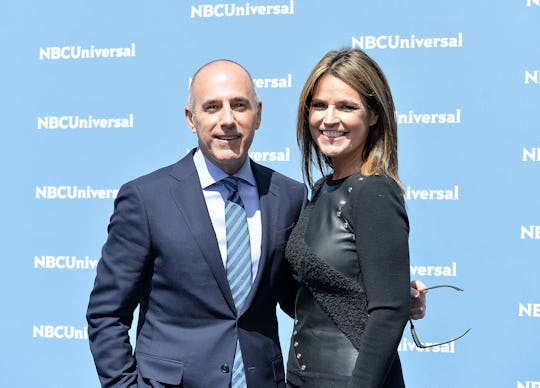 Slaven Vlasic/Getty Images Entertainment/Getty Images
NBC Fires 'The Today Show's Matt Lauer Over Allegations Of Sexual Misconduct
On Wednesday morning, the TODAY Show host Savannah Guthrie opened by informing viewers that NBC fired the TODAY Show's Matt Lauer over allegations of "inappropriate sexual behavior." The news seemed shocking, even to Guthrie, who was told only minutes prior to going on air. But NBC executives are clearly taking the allegations very seriously, and according to CNN, NBC News chairman Andrew Lack told staff in a memo that, while the complaint in question was the first to have been lodged against Lauer, they "were also presented with reason to believe this may not have been an isolated incident." (A representative for Lauer did not immediately respond to Romper's request for comment.)
Lack's memo read:
On Monday night, we received a detailed complaint from a colleague about inappropriate sexual behavior in the workplace by Matt Lauer. It represented, after serious review, a clear violation of our company's standards. As a result, we've decided to terminate his employment.
While it is the first complaint about his behavior in the over twenty years he's been at NBC News, we were also presented with reason to believe this may not have been an isolated incident. Our highest priority is to create a workplace environment where everyone feels safe and protected, and to ensure that any actions that run counter to our core values are met with consequences, no matter who the offender.
We are deeply saddened by this turn of events, but we will face it together as a news organization — and do it in as transparent a manner as we can.
A visibly emotional Guthrie told viewers that she and her colleagues were "devastated" and that they were "still processing all of this." Guthrie promised viewers though that they would still "be covering this story as reporters, as journalists," and that they would share additional information as it becomes available. But it was also pretty clear that the news felt personally upsetting to Guthrie, who considered Lauer a close friend.
Guthrie said,
I'm heartbroken for Matt. He is my dear, dear friend, and my partner, and he has been loved by many, many people here. And I'm heartbroken for the brave colleague who came forward to tell her story, and any other women who have their own stories to tell. And we are grappling with a dilemma that so many people have faced these past few weeks: How do you reconcile your love for someone with the revelation that they have behaved badly?
I don't know the answer to that. But I do know that this reckoning that so many organizations have been going through is important, it's long overdue and must result in workplaces where all women, all people, feel safe and respected. As painful as it is, this moment in our culture and this change had to happen.
Lauer's termination marks the latest in a long string of high-profile men who have been accused of inappropriate sexual conduct (including, in some cases, sexual assault and rape). A week ago, CBS News suspended anchor Charlie Rose, for what had allegedly been years of sexual misconduct in the workplace, according to The Washingston Post. Prior to that, actor Kevin Spacey was pulled from his Netflix series following allegations of sexual assault involving a teenager (Spacey did not respond to Romper's requests for comment, but denied the allegations), while comedian Louis C.K.'s latest film, I Love You Daddy, was shelved, according to The Independent, after he admitted that long-standing rumors about his inappropriate sexual behavior towards non-consenting women were actually true.
Like Guthrie, Rose's CBS This Morning co-anchors Gayle King and Norah O'Donnell covered the story, and it was one that left both women feeling emotional and angry — not just because it affected them personally, but because it was yet another example of what so many women experience but are expected to keep quiet about. Speaking directly to the camera, O'Donnell said,
I also want to say this. That this is a moment that demands a frank and honest assessment about where we stand, and more generally the safety of women. Let me be very clear, there is no excuse for this alleged behavior. It is systematic and pervasive. And I've been doing a lot of listening, and I'm going to continue to do that. This I know is true: women cannot achieve equality in the workplace, or in society, until there is a reckoning, and a taking of responsibility.
For those who have faithfully watched Matt Lauer anchor The TODAY Show all of these years, the news that he was promptly fired for alleged sexual misconduct can feel shocking and maybe even sad. But it also means that finally, after decades of women being treated inappropriately at the workplace by powerful men who knew full-well there wasn't actually a whole lot the women could do to fight back, the tides might actually be changing. By terminating Matt Lauer, NBC is sending a strong message about what is and is not acceptable, even if you've been there for two decades and sign contracts netting you millions of dollars. And thankfully, it isn't the only media company sending that message.
We may still have an incredibly long way to go to tackle the incredibly pervasive problem of sexual harassment and assault, and that reality alone can feel overwhelming. But finally, for once, we appear to be moving ever so slowly in the right direction, and that seems like as good a reason as any to be hopeful.