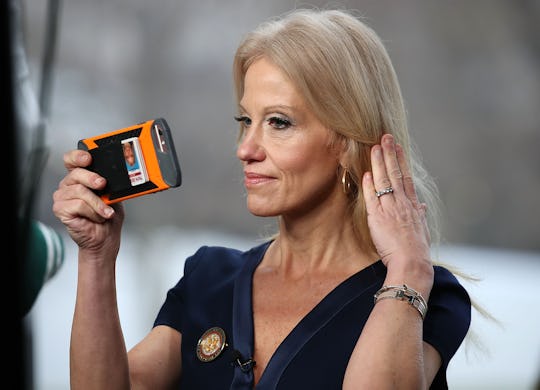 Mark Wilson/Getty Images News/Getty Images
Kellyanne Conway Just Made A Big Mistake
She may be a believer in alternative facts and a fake terrorist attack, but it's hard to argue with federal law. And it's abundantly clear that Donald Trump adviser Kellyanne Conway did, in fact, break a law when she promoted her boss's daughter's fashion line on national television Thursday morning. One of the most recognizable faces of the Trump machine, Conway used an appearance on Fox & Friends to generate her own one-woman "free commercial" for Ivanka Trump's beleaguered fashion line, encouraging viewers to buy products that some major retailers have been dropping.
"It's a wonderful line. I own some of it," Conway said on-air, standing before the official seal of the White House. "I fully — I'm going to give a free commercial here. Go buy it today, everybody. You can find it online."
The unsubtle and apparently deliberate comments were a direct allusion to the fact that some retailers are opting to no longer sell the clothes, shoes, and handbags that bear the first daughter's name. But they're most notable for the flagrant flouting of the federal law that prohibits government employees from endorsing products — and only fuels the nationwide consternation about the Trump family's striking conflicts of interest. Romper reached out to the White House for comment, but has not yet heard back.
On Wednesday, the president himself used both his personal and official POTUS Twitter accounts to blast department store Nordstrom shortly after it announced it would no longer stock fashions from Ivanka Trump's line. "My daughter Ivanka has been treated so unfairly by @Nordstrom," Donald Trump wrote. "She is a great person -- always pushing me to do the right thing! Terrible!"
Trump is technically exempt from the Office of Government Ethics rule that makes it illegal for federal employees from using their position for their own personal or financial gain, or that of their family or friends — a loophole previously thrown into stark relief by the existence the mogul's sprawling international business empire (which he's entrusted to his adult sons). But Conway enjoys no such inoculation under the law, and could face disciplinary action like a multi-day suspension or loss of pay, according to The Washington Post. But White House counsel would ordinarily address such a misstep, Politico reported — and the likelihood of the Trump administration properly disciplining Conway seems slim when it's so clear that Trump agrees wholeheartedly with her.
Shortly, after her father's unexpected presidential victory in November, Ivanka Trump sought to publicly disentangle herself from her brand. But progressives outraged by Donald Trump's policies and campaign trail rhetoric nevertheless called for customers to boycott the line as part of the #GrabYouWallet campaign that provides information on how to avoid funneling money into the Trumps' pockets. For its part, Nordstrom cited poor in-store performance alone for its decision to sever business ties with the Ivanka Trump brand. Some other retailers have quietly removed her merchandise or sought to downplay its in-store prominence. On the other end of the spectrum, Shoes.com told customers "your voices have been heard" in a statement confirming it had dropped the brand in November, Business Insider reported.
Donald Trump and his team have a track record of using bullying companies and promoting their own interests. Press Secretary Sean Spicer, for example, has encouraged people to visit the Trump International Hotel in Washington. D.C., and Trump called has called out companies planning on moving operations from the United States on Twitter.
In that context, Conway's promotion of Ivanka Trump's fashion line, which is unethical at best, seems totally expected — even normal.