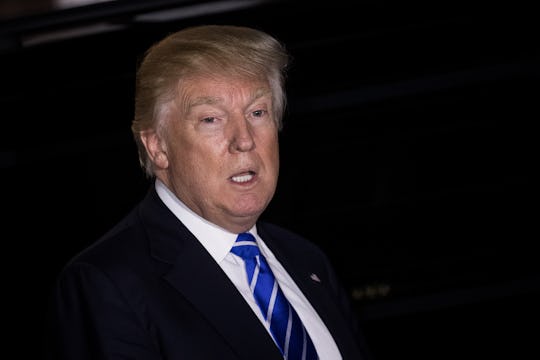 Drew Angerer/Getty Images News/Getty Images
Yes, Donald Trump's Business Ties Are A Yuuuge Problem
As real estate mogul and self-described billionaire Donald Trump prepares to take over one of the most powerful positions in the world, he's transitioning with some knowledge that's liberating for him and anxiety-inducing for the American people as a whole: As president, he won't be subject to regulations that bar him from profiting from his post, as other federal employees are, according to The Washington Post. And Trump, whose sole quasi-concession is that he'll relinquish control of his lucrative international business dealings to his three oldest children, shows every sign of making no effort to disentangle his financial interests in his empire from his duty to protect and enrich the United States above all else. But it's clear that Donald Trump's many, many business ties around the world present unprecedented conflicts of interest that make a national confidence that he'll govern without regard for his own gain hard to fathom.
The now-president-elect flouted convention during the campaign by refusing to release his tax returns, a bleak harbinger of the lack of transparency he'd usher into the White House come January. Now, the fears that move induced are coming to fruition: From Trump's investment in the company building the controversial Dakota Access Pipeline, to his substantial debts to foreign banks, to his ownerships of properties (and the fact that he's sold his name to international builders to use on their own projects), every decision Trump makes as president must be analyzed through the lens of his seemingly endless business dealings and investments — and that's a yuuuge deal.
In a statement provided to Romper, Trump Organization VP of Marketing Amanda Miller wrote that the group is actively addressing these concerns with three of Trump's adult kids, all of whom hold vice presidential status at the organization and are intimately involved with their father's presidential transition efforts:
We are in the process of vetting various structures with the goal of the immediate transfer of management of The Trump Organization and its portfolio of businesses to Donald Jr., Ivanka and Eric Trump along with a team of highly skilled executives. This is a top priority at the Organization and the structure that is ultimately selected will comply with all applicable rules and regulations.
Trump, of course, continually berated his Democratic opponent, Hillary Clinton, for her perceived indiscretions running her family's charity during her tenure as secretary of state, accusing her of accepting donations from entities seeking State Department favors (Clinton consistently denied this.). But Trump's own looming presidency exemplifies the phenomenon he described in that case and multiplies it exponentially — and it's already starting. In a move almost laughably reminiscent of the sins over which Trump supporters have often chanted "Lock her up," Trump recently met with three Indian business partners who are building a Trump-branded luxury apartment building near Mumbai, according to The New York Times.
And on Saturday, the Trump International Hotel in Washington, D.C., hosted more than 100 foreign diplomats for a sales pitch meeting designed to entice them to book rooms at the property when visiting the United States, The Washington Post reported. After sales at similar properties slumped during the campaign season, Trump's victory is proving a boon for his business enterprises — and that seriously blurs the line between Trump's official duties and his personal pursuit of ever-more wealth, at the expense of foreign relations. Former Mexican ambassador to the United States Arturo Sarukhan explained that foreign leaders will feel tempted to stay at his properties.
"Some might think it's the right way to engage, to be able to tell the next president, 'Oh, I stayed at your hotel,'" he told the Post. "If I were still in government, I would discourage it, among other reasons because it can be questioned and looked at in a very poor light, as though you are trying to buy influence via a hotel bill."
And that works the other way as well, because wherever Trump has a business interest or a debt, that could be control his decisions, rather than a clear-headed knowledge of what would most benefit this country. For example, as University of Minnesota law professor Richard W. Painter pointed out in a CNN op-ed, a Trump seeking loans to expand his real estate empire could ease regulations on big banks as a reward and incentive for them to bend to his personal wishes and needs. Ditto the Bank of China loans Trump holds that could wind up in jeopardy if Trump opts to follow through with his campaign promise to explore placing trade sanctions on the country to favor business interests at home, according to Time.
Given Trump's propensity to act rashly and with little information, it's impossible to know how his own vested interest in issues that very much affect Americans and the country's standing in the world will manifest and reverberate.