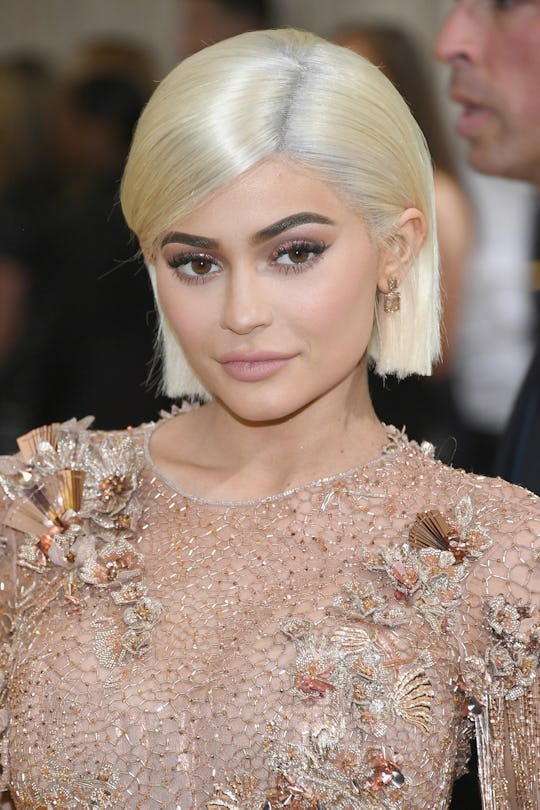 Dia Dipasupil/Getty Images Entertainment/Getty Images
One Major Clue About The Name Of Kylie Jenner's Daughter May Be Right In Front Of Us
There's now one more baby to keep up with! After months of speculation on the part of the internet, and an impressively low profile on the part of Kylie Jenner, it's official: she's a mom. The 20-year-old gave birth on Feb. 1, and now everyone's dying to know if Kylie Jenner named her baby daughter Butterfly, as per a ton of speculation from tabloids and internet sleuths alike.
Update: On Feb. 6, Jenner revealed that her daughter's full name is Stormi Webster in the most-liked Instagram of all time.
Earlier: Of course, one thing Kardashian scholars the world over will first notice about the word "Butterfly" is that it does not, indeed, start with "K." But truly dedicated Kardashian aficionados will also know that the "K" names aren't big in this particular generation of Kardashian/Jenners: so far, we have Kourtney's kids, Mason, Penelope, and Reign; and Kim's babies, Saint, North, and the newest addition, Chicago. (That's everyone, right?)
So, unless Kylie wants to go "old skool" and bring back the K-tradition, she does have another 25 letters of the alphabet at her fingertips. And "B" for Butterfly makes a lot of sense, given the special meaning the butterfly symbol has in her life — more, specifically, in her relationship with her boyfriend Travis Scott, who is the proud daddy of Kylie's new little girl.
Remember this?
That's right, people. Travis and Kylie got matching butterfly tattoos back in June of 2017, which, for anyone counting, would have been right in the first couple months or of Kylie's pregnancy. At the time, Us Weekly reported that the tattoos seemed to be a reference to the song "Butterfly Effect," which Travis released that past May, followed by Instagram photo of Kylie exiting a private plane with the caption, "Butterfly Effect."
There's also this Instagram post of Kylie's from Nov. 1, 2017, which the world of social media took as confirmation that Kylie was not only pregnant, but expecting a baby girl. Hello, pink butterflies!
But there's a much bigger clue staring us in the face now, with the release of what can be considered Kylie's birth announcement video, which you have surely already scoured, magnifying glass in hand, no? See if you see what I'm seeing ...
Aside from a beautiful newborn Kylie making her mom cry (and me), a reminder that I haven't had cheese fries in waaaaay too long, a totally adorable first look at baby Chicago (!!!), I see …. butterflies! Not a ton, but some pretty ~significant~ close-ups, if you know what I mean. Did you catch them? There's the zooming-in on Kylie's butterfly necklace at a party...
And then later in the video, as we get a sneak peek into the baby's adorable nursery (complete with a closet full of delicious baby girl dresses), we see a shot of some special books for babies, including one of my personal favorites, Guess How Much I Love You, and another one simply titled, I Love My Mom, with, yes, a butterfly on the cover.
Cue more ~significant~ zooming in to what seems to be a wall painted with more whimsical butterflies.
It make sense that these clues could indeed be referencing the baby's name, as People recently reported that Kylie had a baby name picked out. But the same source told People that the new mom isn't going to be selling any baby photos, or hitting up the spotlight any time soon.
Of course, it's fun to speculate, and Butterfly would be a super sweet name for a clearly beloved and much wanted little girl, not that it matters what I think! But the best part of the video (after the cheese fries) comes at the very end, when, surrounded by the people who love them, her partner at her side, Kylie brings her new baby girl into the world, and holds her close. That's really all that matters.
Check out Romper's new video series, Bearing The Motherload, where disagreeing parents from different sides of an issue sit down with a mediator and talk about how to support (and not judge) each other's parenting perspectives. New episodes air Mondays on Facebook.