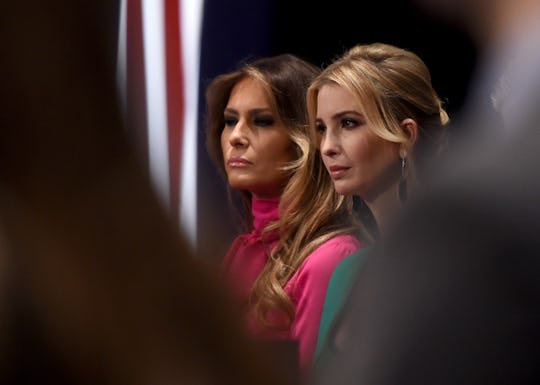 TIMOTHY A. CLARY/AFP/Getty Images
Did Natasha Stoynoff Know Melania Trump? Trump's Lawyer Claims The 'People' Story Is False
Fighting a small battle in a much more massive war, Melania Trump has threatened to sue People magazine over a recent piece on her husband Donald Trump. Written by Natasha Stoynoff, the article in question is a personal account in which the journalist details an incident in which Donald allegedly pushed Stoynoff "against the wall...forcing his tongue down [her] throat" while at the Mar-a-Lago estate in Florida. The claims that Melania and her lawyer are disputing, though, have nothing to to with Stoynoff's interaction with Donald himself. Instead, Melania claims that the story is inconsistent on the grounds that she and Stoynoff were "never friends or even friendly." So did Natasha Stoynoff know Melania Trump? Melania's representation says no, but Stoynoff's 2005 account insists that she did.
Melania's representation insists that the following incidents, as written by Stoynoff for People, are untrue:
1. "That winter, I actually bumped into Melania on Fifth Avenue, in front of Trump Tower as she walked into the building, carrying baby Barron."
2. "'Natasha, why don't we see you anymore?' she asked, giving me a hug."
3. "I was quiet and smiled, telling her I'd missed her, and I squeezed little Barron's foot."
Ultimately Melania's representation asserts: "The true facts are these: Mrs. Trump did not encounter Ms. Stoynoff on the street, nor have any conversation with her. The two are not friends and were never friends or even friendly."
As a journalist assigned to write about the Trumps, Stoynoff was allegedly close to the Trumps, as she writes in her account for People. The timeline she gives is extensive, stating that the three initially had a "very friendly, professional relationship." In addition to the aforementioned, unwanted, alleged pushing-up-against-the-wall incident, Donald reportedly told Stoynoff, "You know we're going to have an affair, don't you?" and reportedly elaborated, "We're going to have an affair, I'm telling you."
In the accusatory letter, Melania's lawyer does not assert that the assertions about Donald in Stoynoff's piece aren't true or that Donald did not forcibly kiss the journalist. Instead, the letter focuses on the minute details that Melania claims were falsified.
Jess Cagle, Editor in Chief of People, has defended Stoynoff's story, however, stating on Thursday:
Ms. Stoynoff is a remarkable, ethical, honest and patriotic woman, and she has shared her story of being physically attacked by Donald Trump in 2005 because she felt it was her duty to make the public aware. To assign any other motive is a disgusting, pathetic attempt to victimize her again. We stand steadfastly by her, and are proud to publish her clear, credible account of what happened.
This letter from Melania's lawyers was sent in the midst of multiple accusations about Donald Trump allegedly sexually assaulting multiple women. Donald himself has threatened to sue The New York Times on claims of libel as well. His threats, though, seem to be getting him nowhere and have yet to be taken seriously by the paper.
Whether or not Melania and Stoynoff were "friends or even friendly" is not the issue here; The true issue behind the alleged incident goes much deeper than that.