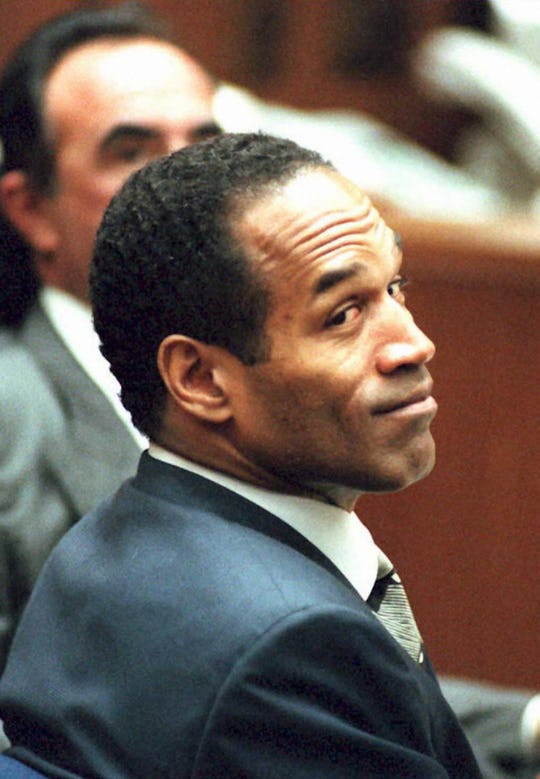 AFP/Getty Images/AFP/Getty Images
Did Nicole Brown Simpson's Parents Push Her To Stay With O.J. Simpson? 'American Crime Story' Tackles The Rumors
Ryan Murphy's American Crime Story brings the O.J. Simpson trial to the forefront of our minds decades after it occurred. Not only does the show portray elements we all remember – like the infamous Bronco chase – but it also spotlights lesser known details. One such detail, which was revealed on Tuesday's episode of American Crime Story, was that journalist Dominick Dunne claimed there was a rumor that, allegedly, Nicole Brown Simpson's parents pushed her to stay with Simpson. (Romper reached out to the Brown family for comment regarding the allegations, but did not hear back at the time of publication.)
If the series is pulling from reality, a People feature from 1995 sheds some light as to why that may have been the case. Shelley Levitt suggested in her article that some claimed the Brown family was "dazzled" by Simpson's fame and wealth, and that it had benefitted them. The article reports that Simpson once secured a Hertz dealership for Brown Simpson's father and paid for his then-wife's two younger sisters' college tuitions.
The Brown family's lawyer at the time, Gloria Allred, denied that the perks of being affiliated with O.J. affected how the family treated the marriage. "If anyone thinks that a member of the Brown family would rather have a trip to a football game instead of Nicole sitting at dinner, they're mistaken," she was quoted in the People article. "No gift can be a license to kill."
The article also discusses what Brown Simpson's friend Faye Resnick had to say on the subject. Resnick claimed that Brown Simpson's family convinced Brown Simpson to stay with Simpson in 1992, when she was considering divorce. Resnick claimed Nicole told her, "It's just like everything else, Faye. O.J. always controls everyone and everything around him."
Levitt also suggested that Brown Simpson stayed with Simpson due to his fame. Joan Farr, director of Metro-dade Family and Victim Services in Miami at the time, told Levitt that wives of public figures often fear financial and social havoc if they leave their husbands.
A 1994 New York Times article, written by Sara Rimer, also revealed details about the Brown family and Simpson himself. Brown Simpson's sister, Denise Brown, told Rimer she did not consider her late sister a "battered woman." She said, "If she was beaten up, she wouldn't have stayed with him. That wasn't her. Everybody knows about 1989. Does anybody know about any other time?"
Brown also claimed that her sister would love Simpson even if he was not famous. "She didn't care if he was a football player or a dirt digger. They were really great for each other," she said in the Times article.
Fame was not only allegedly on the minds of the Browns, but those in Brown Simpson's hometown of Orange County. Valerie Rigg, who attended Dana Hills High School with Brown Simpson, claimed in the same Times article that Brown Simpson was destined to marry "somebody wealthy and famous."
Twenty years later, there is still speculation about the role Brown Simpson's family allegedly played in her marriage – which American Crime Story makes clear. The truth will likely never be known, but the show certainly brings the same drama as the real case did two decades ago.