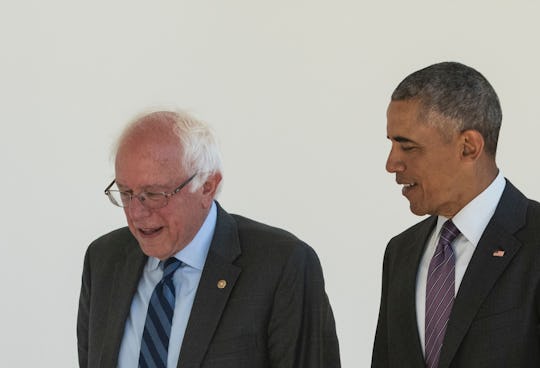 MANDEL NGAN/AFP/Getty Images
Did President Obama Think Bernie Sanders Would Drop Out Right Away?
Vermont Sen. Bernie Sanders has been called many things — a socialist, a dreamer, a dude too old to be president — but I don't think he's ever been called a quitter. Even when the odds are overwhelmingly stacked against him, he refuses to give up. And at this point in his campaign for the Democratic Presidential nomination, the odds are most definitely not in his favor. Everyone sees it — heck, even President Obama sees it, and that much was obvious by the simple fact that he officially endorsed Hillary Clinton in a video for her campaign on Thursday. In fact, it's left some wondering whether Obama thought Sanders would drop out of the race immediately after his major loss in California.
Obama clearly went to great pains to welcome Bernie and Jane Sanders to the White House on Thursday. The two politicians walked through the rose garden, often smiling and laughing together despite what must be a pretty difficult time for Sanders. The popular senator, who continues to have millions of supporters across the country, thanked the president and Vice President Biden for keeping their impartiality in check throughout the primaries. "They said from the beginning that they would not put their thumb on the scale. In fact, they kept their word, and I appreciate that very greatly."
Sanders also went on to congratulate Hillary Clinton on her strong campaign, promising to meet with her soon to discuss how best to defeat Republican Presidential nominee Donald Trump.
"Needless to say, I am going to do everything in my power, and I will work as hard as I can to make sure Donald Trump does not become president of the United States,"
One thing Sanders didn't say? I quit. Despite former U.S. Secretary of State Hillary Clinton's decisive victories at the California, New Jersey, and New Mexico primaries which have now made her the presumptive Democratic Presidential nominee, Sanders has yet to bow out of the race. Which might come as a surprise to some, considering President Obama's recent video endorsing Clinton as the presumptive Democratic nominee.
In his official endorsement, Obama refers to Clinton as being uniquely suited for the job of president. "I don't think there's ever been someone so qualified to hold this office." He went on to say that he was "fired up" and that he couldn't "wait to get out there and campaign with Hillary." Clinton responded on her Twitter account.
This endorsement, on the heels of a morning spent in the company of Bernie Sanders, could look like an assumption by the president that the democratic race is over and Clinton has come out the clear victor. While a member of Sanders' team said the endorsement was expected, Sanders has not made any move to officially bow out before the Washington D.C. primary.
As for Obama's feelings on the subject, White House Press Secretary Josh Earnest said the president would not push Sanders to bow out. "Sen. Sanders has more than earned the right to make his own decisions on his own time frame," he said.
Although Sen. Sanders might be winding down his campaign (eventually), he has made a massive difference in the way Americans look at voting and politicians in general. As Clinton said in her victory speech, Sanders ran an "extraordinary campaign" and galvanized "millions of voters, especially young people".
Sanders for Vice President, anyone?