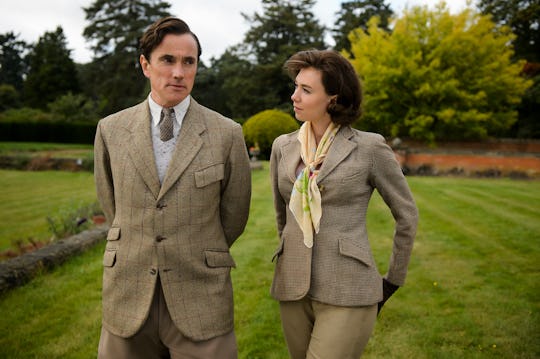 Alex Bailey/Netflix
Did Princess Margaret & Peter Townsend Get Married In Real Life? 'The Crown' Tells A Story
The ambitious new drama series from Netflix, The Crown, tells the story of Queen Elizabeth II from her coronation to the present day, though the first season is set entirely in the earliest days of her reign. But Elizabeth is not the only member of the royal family with a story to tell, and the series also goes into some detail regarding the romantic aspect of her sister, Princess Margaret's life. Did Princess Margaret and Peter Townsend get married in real life? Theirs is a famous, and sadly tragic love story.
Princess Margaret and Peter Townsend met when she was just a teenager. He was married, twice her age, and a father of two to boot. This was when he obtained the position of equerry to her father King George VI. Townsend eventually divorced his wife in 1952, and when the princess was a more appropriate age, 22, the two began their romance. It was kept secret until a journalist saw Princess Margaret remove a bit of fluff from Townsend's jacket at a royal function. Much like fans see in the Netflix series, this little intimate gesture was all the proof reporters needed to suspect that a romance was indeed brewing. Unfortunately for the princess, this was not to last since neither her sister the Queen nor parliament approved.
Until she was 25, Princess Margaret needed her sister, the Queen's, approval to marry anybody. After that, she would still need to get permission from Parliament. But because Townsend was divorced, Parliament was certainly not prepared to give their blessing to the match, so even if Queen Elizabeth II did approve of their union, it wouldn't have been enough. So it all came down to an excruciating choice. Princess Margaret could either have forgone all of her rights and privileges as a Princess, thereby renouncing her rights of succession — or she could've parted ways with Townsend. And in the end, she chose duty over love.
The radio broadcast this brief statement from the Princess:
I have been aware that, subject to my renouncing my rights of succession, it might have been possible for me to contract a civil marriage. But, mindful of the Church's teaching that Christian marriage is indissoluble, and conscious of my duty to the Commonwealth, I have resolved to put these considerations before any others.
This story of thwarted love has fascinated the public since it happened way back in 1955. And interest was renewed upon Townsend's death in 1995, and again when Princess Margaret died in 2002. Now, the whole story has been reimagined with The Crown, showing not only what they went through as a couple, but also how much it impacted Queen Elizabeth II's relationship with her sister. I suggest keeping a box of tissues handy for this particular storyline.