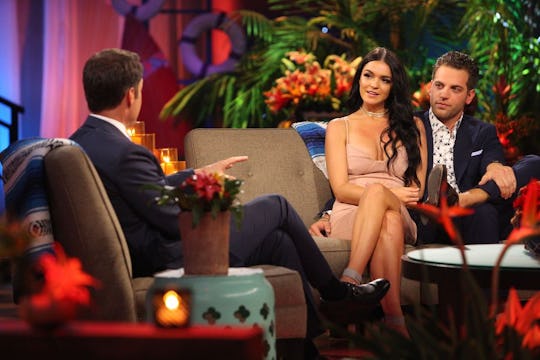 Paul Hebert/ABC
Raven & Adam Are Getting More Serious On 'Bachelor In Paradise'
By now everyone is heavily shipping Derek and Taylor, but one of the other early relationships that formed on Bachelor in Paradise this season was Raven and Adam, who seem to have developed something real. And since they agreed to stay on and explore a fantasy suite date together, did Raven and Adam have sex on Bachelor in Paradise? They seem serious about their budding relationship and when they talked about what a fantasy suite date meant, they seemed equally as excited about taking their relationship a step further.
Since what happens in a fantasy suite date stays in a fantasy suite date though, the important thing is that Raven and Adam are close enough to make the leap to the kind of camera-free date to help their relationship grow, regardless of whether or not they actually had sex. Which, by the way, is really no one's business.
Before their fantasy suite date on Bachelor in Paradise, Adam admitted that he could see himself falling in love with Raven and she confided to the camera that "I'm really hesitant letting myself fall for Adam," but just because she was unsure of taking that big leap with him, it doesn't mean that their relationship wasn't strengthened afterward. And if Raven and Adam had sex on Bachelor in Paradise on their fantasy suite date, there's a good chance they were brought closer together because of it.
As Raven said on the Bachelor in Paradise finale Monday night, one of main reasons for the fantasy suite date is to see if you can make it as a couple and since sometimes that involves seeing how sexually compatible you are, Raven and Adam may have had sex during their overnight date. But when it all comes down to it, as long as they're happy as a couple, that's really all that matters.
Although Raven has said how skeptical she is of Adam since she's been hurt so much in the past, she also pointed out that she didn't want to have regrets about not going through with the fantasy suite date either. Having sex in the fantasy suite doesn't necessarily make or break a couple, but it can be the thing to help a couple progress further or realize that they don't have the kind of chemistry necessary to continue their relationship.
For Adam and Raven, whether or not they had sex on Bachelor in Paradise, they definitely spent the night together and, in Raven's words, "Adam was a little too happy waking up this morning." So whatever happened between the couple only strengthened their connection.