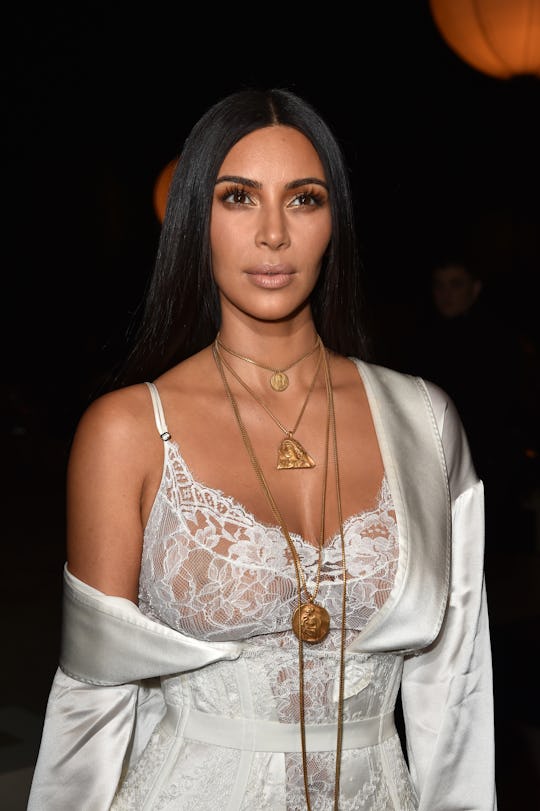 Pascal Le Segretain/Getty Images Entertainment/Getty Images
Did Robbers Take The Ring From Kim Kardashian's Instagram? She's Had A Terrifying Week
The news of Kim Kardashian's robbery at gunpoint in Paris on Monday was shocking for so many reasons. She's arguably one of the most famous faces in the world, and I think many of us believe that her level of celebrity must come with a certain amount of safety. So to find out that Kardashian was robbed of over $11 million worth of jewelry seems sort of tough to comprehend. But robbed she was, and the list of her losses (personal and financial) appear to keep piling up. We now know that Kim Kardashian's famous Instagram ring was stolen — the one given to her by husband Kanye West.
While the ring, which Kardashian proudly shared on Instagram and Snapchat, is estimated to be worth over $4 million, it clearly has sentimental value as well. West gave the ring to her as a gift in September around the MTV Music Awards, and Kardashian loved it. A source close to the couple told People at the time:
Kanye surprised her with a new ring. Kim couldn't believe it. It's even more stunning than her engagement ring if that's possible.
The square cut diamond ring was reportedly close to 20-carats.
The ring was reportedly stolen in an incident at the No Address Hotel in Paris during Fashion Week. A concierge, who was handcuffed by the robbers, helped the five masked men (dressed as police officers) gain entry into her private suites. A Kardashian source told People that she and the concierge were allegedly tied up and held at gunpoint while the perpetrators proceeded to steal $11 million worth of goods from her room. Her ring can actually be tracked, according to Brett Stettner of Stettner Diamond Investments, but the chances of the ring being found are not great. Stettner told Us Weekly that if the five men were able to organize such a "sophisticated criminal enterprise, like the Pink Panthers, they will know how to remove the location numbers [a.k.a. tracking] from this diamond."
Kardashian is back in New York, reunited with her husband and children, and is reportedly beating herself up over the incident. A Kardashian insider told People:
Kim's in shock …. She's tearing herself up that she Snapchatted the ring so much and wore it all the time. This incident is making her question everything. How she dresses, what she does.
She's also not ready for husband Kanye West (who stopped his concert and left the stage in New York when he heard she had been robbed) to buy her a replacement ring. A source told People:
Kanye wants to buy her the ring again but she just says she doesn't want to think about it. He says he wants everything to go back to normal and for the incident to not affect their lives.