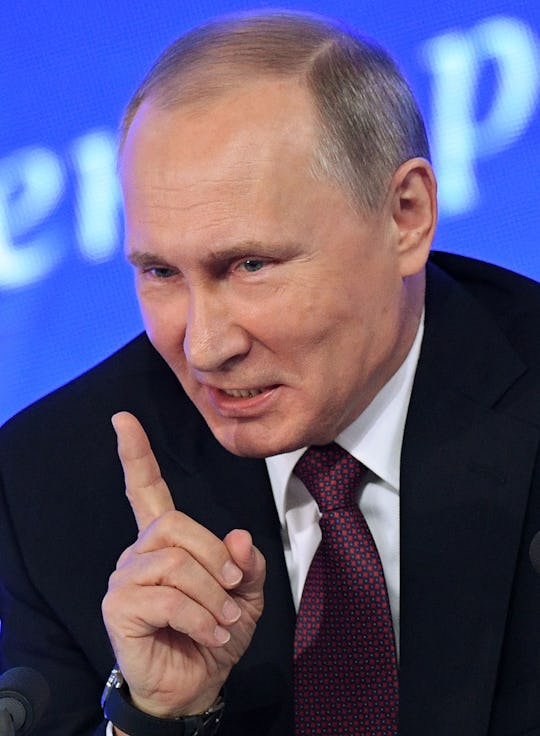 NATALIA KOLESNIKOVA/AFP/Getty Images
Russia Just Hacked Into Vermont's Electrical Grid
Let's face it; we're living in a frightening world right now. Made more frightening by the idea that all information is now "tainted" by the main stream media, and can therefore be dismissed, no matter how tenable the proof. For instance, proof that Russia hacked into the Vermont electrical grid is looking quite damning. But will people (and when I say "people" I mean President-elect Donald Trump) take this distressing turn of events seriously, or dismiss it as yet another example of liberal temper tantrums? Time will tell.
Representatives from the Burlington Electric Department did, indeed, confirm that a laptop with malware code linked to "Grizzly Steppe" (the name U.S. Homeland Security has assigned to the recent Russian hacking campaign) has been found. The utilities company was reportedly alerted by Homeland Security after the malware code was detected on Thursday, and told the Associated Press in an emailed statement that it took "immediate action to isolate the laptop and alerted federal officials."
The municipally-owned utilities company also said that the suspected malware was not connected to grid systems when it was detected.
Our team is working with federal officials to trace this malware and prevent any other attempts to infiltrate utility systems.
The malware code detection at Burlington Electric, one of the largest electrical companies in the state of Vermont, came just days after President Obama levied sanctions against Russia for its alleged cyber hacking involvement of the 2016 presidential election. Several intelligence agencies confirmed the Russian-led hack of the Democratic party, in an apparent attempt to manipulate the presidential election and sway voters towards now President-elect Donald Trump and away from former Secretary of State Hillary Clinton. Obama also expelled 35 Russian diplomats from the U.S. over their alleged involvement in the cyber hacking activities. Russian President Vladimir Putin continues to deny any involvement in the hack, and on Friday President-elect Donald Trump praised him for his "restraint" when Putin chose not to retaliate by expelling American diplomats from Russia.
This latest potential breach in Vermont has caused outrage among politicians; Vermont Gov. Peter Shumlin released a statement saying:
Vermonters and all Americans should be both alarmed and outraged that one of the world's leading thugs, Vladimir Putin, has been attempting to hack our electric grid, which we rely upon to support our quality of life, economy, health, and safety.
Democratic Rep. Peter Welch from Vermont told reporters that the ongoing Russian hacking campaign is "rampant... systemic, relentless, predatory" and warned:
They will hack everywhere, even Vermont, in pursuit of opportunities to disrupt our country.
Perhaps the greatest threat Vladimir Putin poses to the United States? Convincing citizens not to trust each other, or the clear evidence right in front of their eyes.