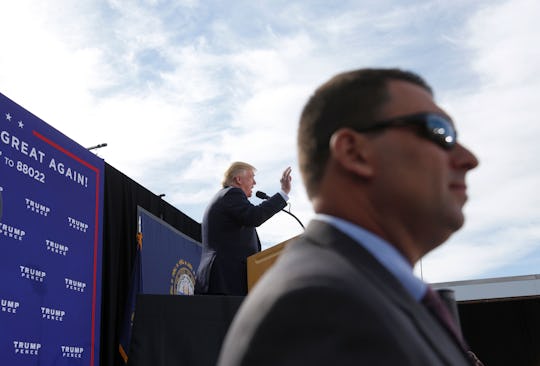 MARY SCHWALM/AFP/Getty Images
Did Someone Have A Gun At Trump's Rally? Secret Service Cleared Up The Confusion
Just days before America will go to the polls and decide once and for all who its next president will be, one of the major party candidates survived an alleged "assassination attempt" at his own campaign event, according to his son. Except, that's not what happened at all. In fact, the immediate reports that someone had a gun at Donald Trump's rally in Reno, Nevada, Saturday are 100 percent false. Instead, the disturbance actually erupted when supporters of the Republican nominee spotted a man in the crowd displaying a "Republicans Against Trump" sign, and so began "kicking me and grabbing me in the crotch and just, just beating the crap out of me," the man, 33-year-old Austyn Crites, told reporters afterwards, according to The Washington Post.
That's right — the nominee's supporters allegedly unabashedly grabbed a peaceful protester in the crotch, exactly as Trump himself described doing to women in a revelatory recording recently made public, before reportedly beating him for protesting their chosen candidate. But that uneasy irony certainly did not stop responsive, vigilant Secret Service agents and law enforcement officials from doing their jobs.
After an "unidentified individual" exclaimed that there was a "gun," Crites was swiftly apprehended, according to CNN. Of course, in spite of the hullabaloo that included the candidate himself being escorted from the stage (right after he, again, falsely alleged that the election was rigged against him, BBC reported), Crites was released and the Secret Service confirmed that there was no evidence that there were any weapons at the scene at all.
"Immediately in front of the stage, an unidentified individual shouted 'gun.' Secret Service agents and Reno Police Officers immediately apprehended the subject," a statement officials released shortly after the incident read, according to ABC News. "Upon a thorough search of the subject and the surrounding area, no weapon was found."
Still, the definitive debunking of the dangerous rumor that there was a gun at the rally is apparently not enough for Trump's own director of social media, Dan Scavino Jr., and his oldest son, Donald Trump Jr., to distance themselves from a tweet claiming the opposite. Both retweeted a tweet that reads "Hillary ran away from rain today. Trump is back on stage minutes after assassination attempt" Saturday evening. And the false statement, along with the reference to the fact that Democratic candidate Hillary Clinton cut a Florida rally short the same day because of heavy rain, is still on each profile Sunday morning.
Either way, Trump did return to the stage shortly after the scare to finish his stump speech and to give a special shoutout to the team that certainly would have worked to save his life, had the assassination attempt actually been an assassination attempt. "Nobody said it was going to be easy for us, but we will never be stopped," he said, according to CNN. "We will never be stopped. I want to thank the Secret Service. These guys are fantastic."
Trump also released a brief official statement to the same affect.
As Election Day finally descends upon us, and not a moment too soon, we can remember the assassination attempt that wasn't as another anecdote of this bizarro election cycle. File it under "rigged."