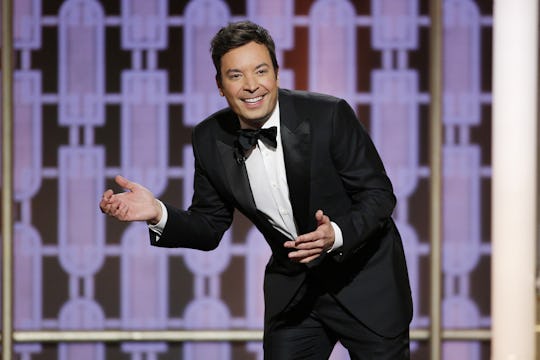 Handout/Getty Images Entertainment/Getty Images
The Teleprompter Broke At The Globes & ... Awkward
Barely a minute into the opening of Sunday night's Golden Globes awards, one major glitch tried to steal the show and left many fans watching scratching their heads: Did the teleprompter break at the Golden Globes? According to host Jimmy Fallon on the stage of the Beverly Hilton, it actually did — as the moment was completely unscripted and caught on live TV. "Welcome to the Golden Globes," Fallon began. "Already the teleprompter is down, so this is a great way to start the show!" Vamping for time until a new monitor could be brought in, Fallon offered to do impressions and even asked if his buddy Justin Timberlake could help him out.
After an amazing cold open featuring Stranger Things star Millie Bobby Brown rapping at the Golden Globes, Fallon's teleprompter fail was definitely a bit of an energy let-down just before his big opening monologue. "You know what, I'll just make up this monologue," he said, pacing the stage and stretching for time. It's almost like the curse that overshadowed 2016 has crept right into the new year. The moment was probably especially nerve-wracking, given that this is the first time Fallon has hosted the Golden Globes.
Fallon handled the moment as best he could, all things considered. Thankfully, the audience was forgiving as the teleprompter issue was resolved within a few minutes. Still, the moment did not go unnoticed at all on Twitter, as fans lit up the #goldenglobes Twitter feed with reactions. Some fans thought he did great, others didn't think so, but a lot of that really depends on whether you're a fan of Fallon to begin with.
One Twitter user even went so far as to praise Fallon for his quick-thinking improvisation as the teleprompter issue happened, while throwing some serious shade at Mariah Carey's New Year's Eve live performance fiasco.
...And then Fallon totally did the same thing once the Golden Globes came back from commercial, calling out Carey for blaming the NYE production team for her performance issues. Somebody grab me a flashlight or something because I can't handle this shade.
Some viewers had their own theories about what caused the Golden Globes teleprompter to fail Sunday night. Russian hackers, perhaps?
Okay, probably not Russian hackers. But still, it was a dicey moment for Fallon and he managed to nervously stumble through it as best he could. Oh to be a fly on the wall of the Golden Globes production team control room right now...