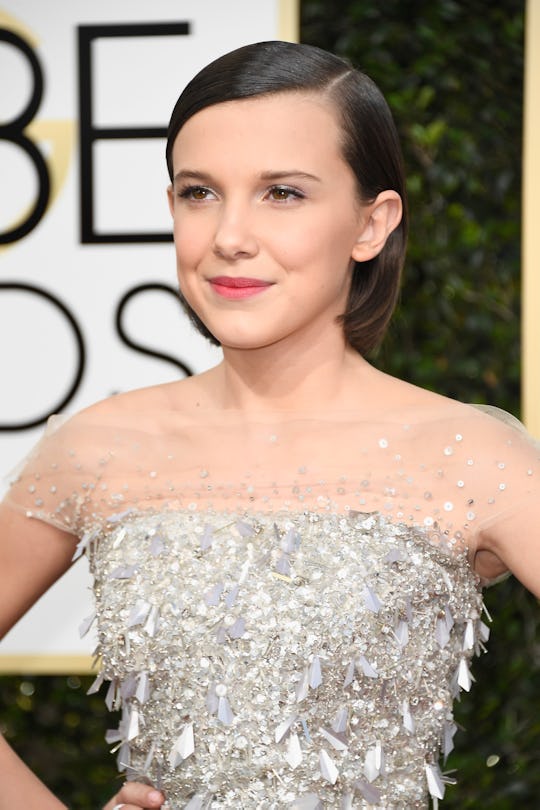 Frazer Harrison/Getty Images Entertainment/Getty Images
Millie Bobby Brown's Rap At The Globes Was Amazing
There hasn't really been a question about the growing fanbase of Stranger Things since its premiere season was released on Netflix, but nothing says a renewed interest and hope in it than a surprise rap verse. Which is why Millie Bobby Brown's rap at the 2017 Golden Globes gives fans hope for Barb. Although it's been several months since Stranger Things busted out on the streaming platform, fans are still mourning the loss of their favorite unsung hero, Barb. During Brown's rap at the 2017 Golden Globes, she let it out that Barb is alive on Stranger Things, which is the greatest gift that Eleven could ever give to fans.
So does this mean that Barb is alive on Stranger Things? Like, for real? Although the character was pretty much confirmed as dead at the end of Season 1, her death sparked not only sadness and disappointment, but even a hashtag dedicated to the fallen character. While fans cried out #JusticeForBarb on Twitter, the Stranger Things creators were likely kicking themselves to killing off the surprise fan favorite much too soon. So with Brown's rap at the opening of the 2017 Golden Globes, is Barb alive on Stranger Things? That remains to be seen (though I seriously doubt it), but can we take a minute to just appreciate the multi-faceted actress who plays Eleven?
Brown isn't a stranger to busting out some world class rhymes though, as she previously rapped on The Tonight Show Starring Jimmy Fallon, blowing fans away with her rendition of Nicki Minaj's verse in the song "Monster." Brown was relatively new to the acting scene when she stole the show as Eleven on Stranger Things, but her rap game proves that there's apparently not much she can't do.
Of course for some, the big takeaway is the apparent spoiler that Barb is alive on Stranger Things, but maybe the bigger thing here is that for those who didn't love Brown as Eleven before, are probably going to have a newfound appreciation for the 12-year-old actress. But really, who can't love the rap-singing, Eggo-eating actress who makes frozen breakfast foods look good?
Brown rapped in the Golden Globe cold open with her Stranger Things co-stars, and it was like the show had never been between seasons. The amount of love and attention for the Netflix Original has been nothing short of amazing since its eight-episode first season and it's really no surprise that a Season 2 for Stranger Things was confirmed.