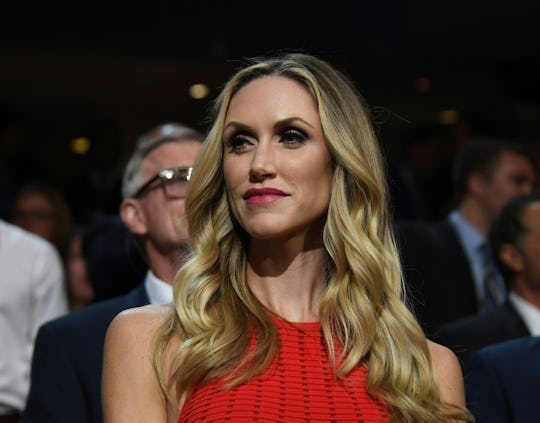 JIM WATSON/AFP/Getty Images
Did Trump Affect The FBI's Clinton Email Investigation? His Daughter-In-Law Says Yes
FBI Director James Comey sent a letter to eight Republican committee chairmen on Friday regarding Democratic presidential nominee Hillary Clinton. He wanted to let them know that the FBI was in the process of reviewing new Clinton emails that had been uncovered in an unrelated investigation, as well as sending out a letter to FBI employees. While the Clinton campaign is furiously urging Comey to release these alleged emails for public consumption, there is a question on many minds; did Republican presidential nominee Donald Trump affect the FBI's Clinton investigation?
In a radio interview on Friday, Trump's daughter-in-law, Lara Trump, proudly shared that she believed he could have encouraged the FBI to review these new emails. She told WABC Radio host Rita Crosby:
"I think my father-in-law forced their hand in this ... You know, he has been the one since the beginning saying that she shouldn't be able to run for president, and I commend him on that."
Lara Trump, who is married to Trump's son Eric, went on to tell Crosby that if her father-in-law had not "put the pressure on" the FBI to examine these new emails they may not have been under review at this stage (11 short days before the election, coincidentally). She also said that she believed this latest scandal would finally be the "nail in the coffin" for Clinton.
When Comey made the independent decision to notify Congress of the FBI's intent to review the Clinton emails, he did not wait for approval by the Justice Department. He also disregarded the objections of Attorney General Loretta Lynch and Deputy Attorney General Sally Yates, according to CNN. Comey went against a long-standing policy used by both the Justice Department and the FBI to avoid publicly speaking about politically sensitive topics within 60 days of a general election.
The initial investigation into Clinton's use of a private server for emails while serving as Secretary of State ended in July when Comey announced that no criminal charges would be laid. Comey has not released these new emails, which were found during an unrelated investigation into disgraced New York politician Anthony Weiner's lurid online relationship with a 15-year-old girl (Weiner is the ex husband of Clinton top aide Huma Abedin), nor has he contacted Clinton herself.
For his part, Donald Trump has referred tot the recent Clinton email review as being "bigger than Watergate"; in New Hampshire, he smugly told his supporters that "justice would finally be done."
If Trump did somehow manage to force the hand of the FBI to get what he wants, pushing the Director of the FBI to go against the objections of the Attorney General and disregarding a long-standing non-partisan policy shared by the Justice Department and the FBI... what will he do if he becomes the next President of the United States?