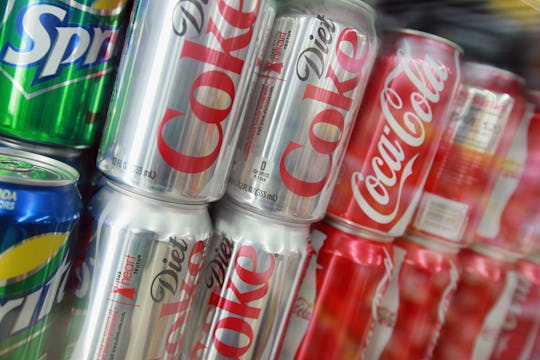 Scott Olson/Getty Images News/Getty Images
Diet Coke Introduced 4 New Flavors, & They Sound... Really Weird
When was the last time you had a Diet Coke? Well, if the soft drink's most recent sales reports suggest, it's probably been a long time. The once super popular soft drink giant has been struggling to increase sales for years, especially with the ever-desirable millennial crowd. So what's a soda to do? Re-brand, of course. Diet Coke is introducing four new flavors and a sleek new look that is meant to be considered "Insta-worthy," in an effort to attract millennials.
And how does one attract millennials to drink soft drinks? Make the packaging more appealing and up the flavor quotient, apparently. As Rafael Acevedo, Coca-Cola North America's group director for Diet Coke, said in a statement:
Millennials are now thirstier than ever for adventures and new experiences, and we want to be right by their side. We're contemporizing the Diet Coke brand and portfolio with sleek packaging and new flavors that are appealing to new audiences.
With new flavors like Ginger Lime, Zesty Blood Orange, Fesity Cherry, and Twisted Mango, Diet Coke executives are hoping to encourage an entire new generation to start drinking sodas. Which could be tricky, considering several reports like this one from Business Insider that contend the artificial sweeteners in low-calorie soft drinks like Diet Coke can be harmful to your health.
But now... now there's a whole bunch of new flavors. I won't lie to you; I'm intrigued.
Acevedo told BuzzFeed Business that Diet Coke sales were down 3.5 percent last year, and this re-branding will hopefully turn things around.
We love the essence of Diet Coke and we don't want to throw it away — just modernize it so we can re-express it for a new generation of fans.
He went on to note that more than 80 percent of Diet Coke drinkers were Baby Boomers, and the majority of the Baby Boomers were predominantly white.
We believe that to recruit a new generation, we have to appeal to them, and millennials are 40% multicultural.
With that in mind, the beverage marketers at Diet Coke decided to go with exciting flavors, because their research found millennials (especially Latinos) responded well to new flavors. As for the brightly colored packaging, Acevedo also told BuzzFeed Business that Coca-Cola wanted to make sure the cans looked "Insta-worthy."
Despite the fact that the new flavors of Diet Coke won't be rolled out until later this month (Canadians will have to wait until February), people are already taking to social media to share their feelings about the face lift. Not to mention the obvious attempt to win over millennials.
It's unclear right now whether the strategy will actually work. Millennials tend to be incredibly savvy when it comes to marketing, if only because this generations is inundated with new sales schemes in a way that no generation has ever been before. And considering millennials have never really warmed to drinking low calorie sodas like the previous generations, it could be a really tough sell. After all, bottled water has overtaken soft drinks as America's number one beverage, so it could be an uphill climb for Diet Coke.
Millennials are also more concerned about taking care of their health, and Keanan Beasley of the marketing agency BLKBOX told BuzzFeed Business this is exactly why they have avoided soft drinks in the first place:
Millennials for years have rejected the idea of soda due to health concerns. This is the bigger issue for Diet Coke and the Coke franchise. They still have to face this issue head on.
Still, it's always nice to know companies are trying to cater to your needs, right? And it's not even like Diet Coke has forgotten their loyal customers; the company announced it has no intention of changing the original Diet Coke.
We will have to wait and see how this new soft drink drama unfolds, I suppose.
Check out Romper's new video series, Romper's Doula Diaries:
Watch full episodes of Romper's Doula Diaries on Facebook Watch.