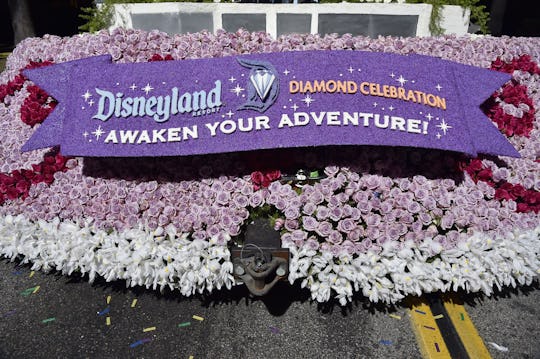 Alberto E. Rodriguez/Getty Images Entertainment/Getty Images
Disneyland Is Set To Serve Alcohol After 60 Dry Years, Parents Everywhere Rejoice
The last time I took my kids to Disneyland we went with my parents as well. It was August, I was traveling with four overexcited little kids and two under-excited adults. We decided to eat dinner at the Pirates Of The Caribbean ride. It was cool and dark and the food looked great. And they didn't serve wine because no booze in Disneyland and no one told me. I think the walls of that restaurant are ringing with my desperate sobs to this very day. Fortunately, Disneyland is set to serve alcohol after 60 dry years. And I'm pretty sure I'm not the only parent who is a little too happy about this news.
Let me preface this by saying I actually do understand why the wise folks at Disneyland weren't too keen to serve alcohol initially; you don't want a bunch of drunk adults wandering around the park and not paying attention to their kids. And to be fair, Disneyland is really fun even booze-free. It's not like I want to wander around waving a bottle of tequila in people's faces while my kids terrorize park guests or anything. But a glass of wine after a long day of rides with the kids? Nice. Especially if it's in a Star Wars-themed cantina.
According to CNN, when Star Wars: Galaxy's Edge, the newest attraction, opens at Disneyland and Disney World in 2019, it's going to be exciting for an extra reason. Oga's Cantina will be open, and guess what they serve in Oga's Cantina other than a pretty realistic Star Wars experience? Booze.
As Scott Trowbridge, portfolio creation executive for Disney Parks, explained, Oga's Cantina is going to be a one-of-a-kind experience. But this time with alcohol.
Oga's Cantina is the kind of establishment that attracts some of the most interesting and disreputable characters in the galaxy. And you never know when a stormtrooper or a familiar face will show up. Patrons of the cantina come from across the galaxy to sample the famous concoctions created with exotic ingredients using "otherworldly" methods, served in unique vessels. With choices for kids and libations for adults, the cantina will make for a great stop!
If you're lucky, maybe some Stormtroopers will come in looking for you and the tattle-tale bartender will point you out for them. That would make the whole experience pretty much perfect.
While Disney World in Orlando, Florida will also have its own Oga's Cantina serving drinks, but that park was already serving alcohol at three separate restaurants so perhaps it's not quite as revolutionary. Although to be fair, Disney World didn't start serving alcohol until 2012, and even then it was only served to people who dined at Be Our Guest, the Beauty and the Beast-themed fine dining restaurant, until 2016. Thankfully all of that has changed.
For those who might be taking their kids to Disney World soon, those restaurants are the Plaza Restaurant on Main Street USA, the Crystal Palace, and the Diamond Horseshoe Tavern in Frontierland.
Disneyland's 63 year dry spell has long been attributed to Walt Disney's affinity for family values, which I guess doesn't include drinking a glass of wine in an effort to deal with that family. I actually do think you can have a family-friendly space like Disneyland and still have a glass of wine with your dinner. I know this, because I would have loved my experience probably 25 percent more if I could have had just a little unwind time with some Pinot Grigio.
Here's hoping nobody wrecks our good fortune by doing something stupid when they're drinking. That would be the literal worst.