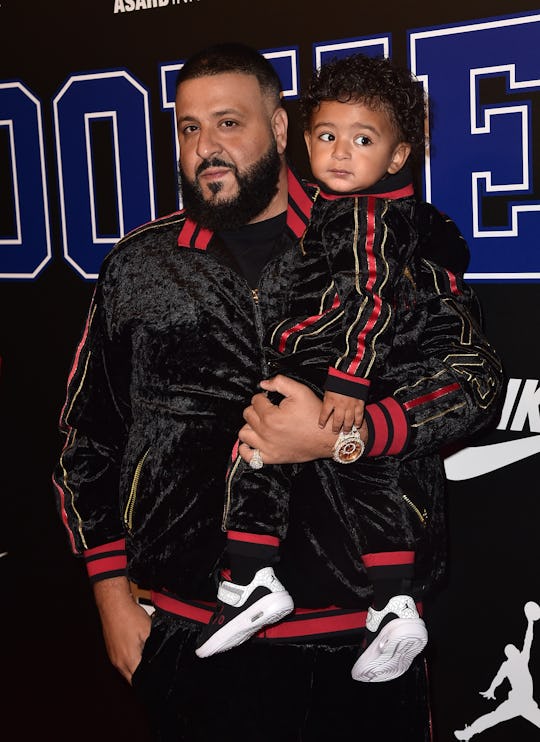 Alberto E. Rodriguez/Getty Images Entertainment/Getty Images
DJ Khaled's Touching Video Tribute To Asahd Will Give You *All* The Feels
There is nothing that Snapchat superstar and the producer behind your favorite songs of the summer, DJ Khaled, loves more than his 1-year-old son, Asahd. From flying in private jets to making red carpet appearances in matching tuxedos, together, the bond between them is so strong. So, it shouldn't be a surprise that DJ Khaled's new album, set to be released this summer, is titled Father of Asahd. But in case you needed any more proof about Khaled's love for his little one, then his open letter dedicating his album to his son will definitely tear your heart out and mend it back together again by the time the video is over.
Hearing Khaled's open letter to Asahd will make your cold heart melt just from the sheer passion behind Khaled's words alone. If having a whole entire album of songs, Father of Asahd, named after him wasn't a big enough honor, then hearing what his father had to say about him in this video is huge.
In the video, posted to Khaled's YouTube account, Khaled tells fans and Asahd that he has an important message for them about something Khaled knows a lot about — love. "Love turns bad to good," Khaled said in the video, while never-before-seen clips of Asahd play. "Dark to light. Losing to winning. Love can change everything. It's changed me — and I'll tell you how." Obviously, Khaled is talking about Asahd, his son who was born on Oct. 14, 2016, according to TIME, whom he shares with his wife, Nicole Tuck.
In the video, Khaled talked about just how important Asahd is to him:
He is my legacy. He is my love. My lion. That's what Asahd means — Lion. Love did that.
And just when you thought that Khaled could not stop fawning over Asahd enough, he hits fans with how Asahd has changed his life. "He's what gives me hope and purpose," Khaled said in the video. "He's my inspiration and motivation. When Asahd smiles at me, it is god smiling at me."
But perhaps the most touching part of the video is when Khaled revealed why he decided to name his album Father of Asahd. Khaled said in the video:
My whole life I thought our parents gave us our names. Mine called me Khaled. But here's a major key — our children give us the ultimate name, the greatest title, the highest honor. My son has given me my new name — Father of Asahd.
It's so life-changing to look at parenting from that perspective. When a child enters someone's life, they change the titles they have forever and give them a new one that they can hold onto for the rest of their lives. When you have a child, you are no longer just a sibling or a son or daughter, you become a mother or father to your child. There really is something so special about the unique bond that a parent shares with their child, and the one that Khaled shares with Asahd is almost indescribable.
If you're not familiar with Khaled, then you might not be familiar with his son, Asahd, and all of the things he has accomplished during his one year and a few months of life. Khaled has cited Asahd in helping him get over his fear of flying, made Asahd his executive producer of his last album, according to Fader, and took him as his date to various award shows over the past year. Asahd has been on more private jets, worn more designer clothes, and met more celebrities in the past year than the majority of people ever will — and he has done it all alongside his dad.
Khaled has many roles in life, but it is clear, especially from this video, that being Asahd's dad is his favorite.
Check out Romper's new video series, Bearing The Motherload, where disagreeing parents from different sides of an issue sit down with a mediator and talk about how to support (and not judge) each other's parenting perspectives. New episodes air Mondays on Facebook.