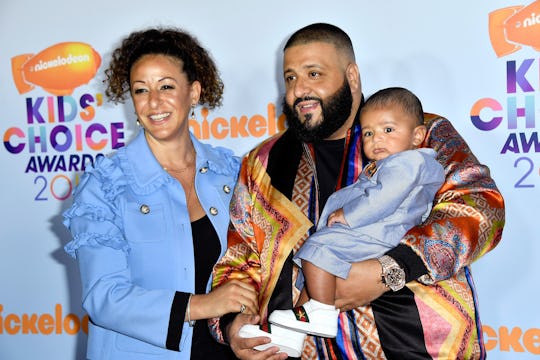 Frazer Harrison/Getty Images Entertainment/Getty Images
DJ Khaled's Quotes About His Son Are Heartwarming
There's this one story my partner loves to tell about the birth of our son. I had to have an emergency C-section, so there I laid on the operating table, in an anesthetic haze, with the father of my child by my side. Right after the doctor delivered my newborn, I heard a loud wail. And in my haze, I asked, "Is that my son? He sounds like a cat." Even in intense situations, humor can be the best way to show love. That's why DJ Khaled's quotes about his son, Asahd Tuck Khaled, prove there's no love like a parent's love.
DJ Khaled, the music producer and Snapchat celebrity, welcomed his first child with fiancée Nicole Tuck back in October, In Touch reported, and he can't stop gushing about their little tot. According to New York Magazine, Khaled is so in love with his 5-month-old son that people have turned it — the abstract but very real thing that is a parent's love — into a meme. While most of what Khaled has said about Asahd has been sentimental, the 40-year-old record producer has also made some funny quips about the little guy. DJ Khaled has even given Asahd his own Instagram account, @ashadkhaled, which is full of so many great gems (like this one here).
There's no doubt that Khaled and Tuck are over the moon about their newborn son. Here are some Instagram captions that prove it.
That Time Asahd Took On The Role Of Manager
Who better than you're own kid to keep you in check about your responsibilities? BET reported that Asahd is the executive producer of DJ Khaled's upcoming album, after all. His son is keeping tabs on him, Khaled wrote on Instagram:
I'm on my way to the studio and my son checking in wit me making sure I'm working on #GRATEFUL ! #GRATEFUL THE ALBUM COMING! It's all on GOD AND ASAHD HANDS! @asahdkhaled
Asahd, The Next Movie Star?
As a parent, you want your child to admire what you do for a living—maybe even follow in your footsteps. Most of all, though, you want to involve your kid in everything you do because it's another special way to bond. According to Khaled, Ashad already has his foot in the door:
Breaking news #ASAHD on set wit a major role in the movie #pitchperfect3. God is the greatest!
When Your Kid Is Your Number One Inspiration
Asahd flew on a private jet to meet his father at work, which made DJ Khaled's heart explode, according to his Instagram caption:
Now I have the energy that I love and need!! this a special energy my son gives me !!! @asahdkhaled I love you!! #GRATEFUL
And Motivates You To Reach For The Stars
Kids can push you beyond limits you didn't even know you had. There's no way anyone can say that DJ Khaled is not dedicated to giving Asahd the best life. He has one special message for his son,
I promise you I'm working so hard so I can jus be wit u every single day !! I love you so much !!! There no words that can explain my love for you but I have a solution for that I can show you better than I can tell you !! Me and mommy we got you forever !!! Thank you for being my son !!
But He's Also Your Biggest Critic
It seems like little Asahd is pleased with his father's work so far. (That or he just farted. Babies are hard to decipher.) Khaled wrote on Instagram that,
@asahdkhaled jus got done listening to #GRATEFUL to see where we at wit the album .. and here's my son reaction after hearing what we have so far ... I love you @asahdkhaled ! Fan luv this my biggest album its all in Gods hands and @asahdkhaled hands!! #GRATEFUL is in good hands!!
Whether he's making a joke or being mushy, it's clear that DJ Khaled adores Asahd. And who wouldn't? Just look at that face.