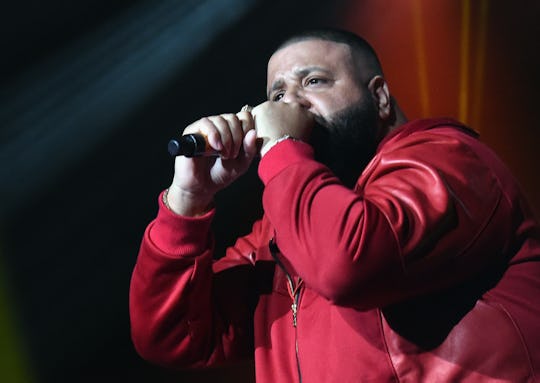 Rick Diamond/Getty Images Entertainment/Getty Images
DJ Khaled's Sweet Message For Son Asahd
DJ Khaled really loves his son. This we know to be true. The Snapchat aficionado (and also music producer) seems to have made an entire separate career out of loving his baby boy. So much so, I'm very sorry to say, that his love for his precious baby has now become a meme. But does that stop him from sharing his joy? Nope. Khaled's recent photo of Asahd in the recording studio, complete with life-affirming message, is yet another example of the depth of Khaled's devotion. And why not?
Little Asahd was born to Khaled and longtime fiancée Nicole Tuck on Oct. 23, 2016. His birth happened the usual way, with his father Snapchatting the entire blessed event (fortunately, Tuck seems to be OK with Khaled's expert social media game). Since his birth, Asahd (which is Arabic for "Lion") has been a source of constant beauty and wonder for his father, not to mention a creative muse. Asahd is listed on Khaled's album Major Key as an executive producer.
Now, before you cry nepotism, it turns out Asahd has been collaborating with his father in the studio, despite being just 6 months old. Khaled explained on Jimmy Kimmel Live! that Asahd helped out by "listening to the songs with [him], going over the business part of it, [determining] if the vocals are right, if the beats are right, if the energy's right."
And clearly, Khaled is grateful to his little creative inspiration. He took to Twitter on Thursday with a sweet picture of father and son in the studio with an even sweeter message. "I love you son!" he wrote. "You my best friend! I love you so much! You taught me what real happiness is and what real joy is! GOD THANK YOU!"
Khaled's gratitude for his son looks to be pretty mutual; After all, Asahd has even managed to communicate which tracks he likes and which he doesn't without being able to speak. Khaled further explained to Kimmel:
When he [sways and smiles], those are smash hit records. [When he sways with a scowl on his face], that's the real serious records but hits with substance. It's a vibe, you know what I mean?
Asahd seems relatively unaware of the enormity of his responsibility. While his doting dad told Kimmel that he made sure his son's job was legit ("He is credited as executive producer, and his attorney has his points or royalties, everything," he said), Asahd still manages to seem pretty unfazed by his pint-sized rock star lifestyle. Even when he's hopping on a private jet to visit his dad, he just sort of rolls with it. Amazing.
It's easy enough to mock Khaled's devotion to his son. But it doesn't change a thing at the end of the day. Because Khaled and Asahd will continue to be a dynamic father/son duo, darlings of social media, and music geniuses together. I hope they keep it coming.